We've been following the work of Chip Foose and his team on a 1962 Corvette project over the course of a year or so and we are now up to episode 5 in this mini-series for the web. If you want to go back and catch up on all of them, the Foose Design YouTube Channel has put them all in this playlist.
The custom '62 Corvette was already widened and it rides on an Art Morrison chassis with power coming from an LT4 crate engine and a Whipple supercharger. As always, decisions are being made that radically change the direction of the project as the car is currently under construction. It was in an earlier episode that the owner of the 1962 Corvette stopped by the shop and as he was talking with Chip about the car, he casually mentioned how cool it would be to have a midyear-style dash mounted in the car. Chip told him sure, they can do that, and now the Corvette has the double-hump cockpit with the waterfall dash modeled after the '63.
In the latest video, Chip is doing some metal fabrication to make the transition of the corner dash and door top finishers which will provide the appearance of the C2 dash being seamlessly integrated with the doors.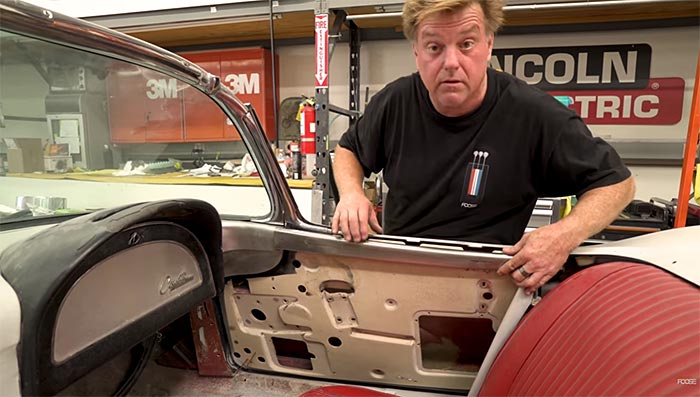 While Chip is working on that, a team member is working on the front of the car and doing some billet work with the front openings. A specialist is called in to do a 3D scan of the front of the car so they can mill out the parts needed.
Finally, the video ends in typical Chip Foose fashion as the talented designer sits down and sketches an awesome rendering of the 1962 Corvette which reveals the paint scheme for the car.

Source:
Foose Design / YouTube

Related:
[VIDEO] Chip Foose Goes to Work on a Custom 1962 Corvette Widebody
[VIDEO] Chip Foose Draws a 1963 Corvette Split-Window Coupe
[VIDEO] Here is How Chip Foose Would Improve the Design of the C8 Corvette