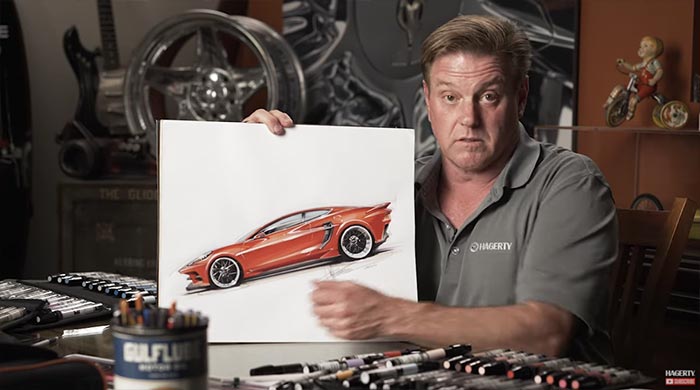 We've featured several of these videos from Chip Foose where he draws a specific Corvette model and then adds his own personal touches to the car. His previous "Chip Foose Draws a Car" videos from Hagerty have featured both the 1963 Corvette Split Window Coupe and a C5 Corvette that he turned into a speedster. Now the Overhaulin' star is back with a new video and for this one, he is taking on the new mid-engine C8 Corvette.
Holding up a photo of a C8 Corvette, Chip kicks off this video by talking about how much he liked the evolution of Corvettes over the multiple generations and says the American Sportscar is only second to the Porsche in terms of how it evolved over the years. Chip says he isn't quite sold on the drastic switch to the mid-engine configuration just yet and he's been fighting "falling in love with this car" due to his appreciation for the lineage of Corvettes from C1-C7. So in this exercise, he wants to see if he can carry over some of the previous design cues to fix that.
Chip immediately points to the C8 Corvette's side intakes as one of the issues he has with the car, saying "it just seems to be such a tacked-on piece that doesn't go with the overall design of the car" and that's where he begins.

"Don't get me wrong when I'm saying that I don't know if I'm a fan or not. I'm a huge fan of the performance…It's the styling that I keep looking at and wondering why they do this or why did they do that rather than keeping that evolution of the Corvette."
Once Chip has the sketch completed, he runs through his thought process and shows how he incorporated some of the previous generational design cues into the new C8 Corvette. Much of it picks up where the C7 Corvette left off but he does sprinkle in a little C2 in there as well.
Check out the video by Chip and let us know what you think about his restyled version in the comments below.

Source:
Hagerty / YouTube

Related:
[VIDEO] Chip Foose Draws a 1963 Corvette Split-Window Coupe
[VIDEO] Watch Chip Foose Work his Magic on the C5 Corvette
[VIDEO] Chip Foose Goes to Work on a Custom 1962 Corvette Widebody (Part 1)