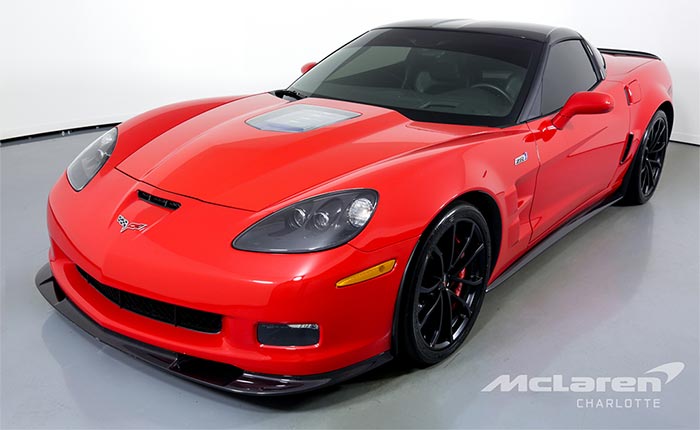 Deep in the heart of NASCAR country you'll find a factory-authorized McLaren dealership. The British supercar maker's North Carolina location is an impressive one, too! A quick scroll through their inventory reveals a cornucopia of makes and models that you just don't see every day.
They have two Sennas, multiple Koenigseggs, the new hybrid Ferrari, a 765LT in the purple that I want the Corvette team to pinch for the C8, a Bugatti, and a host of 'Ring slayers like the Aventador SVJ, AMG GT Black Series, 488 Pista, and 918 Spyder. You get the picture, the place is a high-rolling motorhead's paradise. Continue down the price food-chain on their site, under the sea of G-Wagons and Lamborghini Uruses (Uri?), is an American treasure that is every bit as fast and rare as most of the cars listed above.

McLaren Charlotte's Torch Red 2012 Corvette is one of the finest examples of the breed to come up for sale in some time. Sitting at just under 4,600 miles, this stunning example of America's Sports Car is one of just 375 C6s ever outfitted with RPO PDE; the ZR1 Ultimate Performance Package. When PDE debuted for the 2012 model year, it added lightweight "cup" wheels, a new MagRide calibration, a more-aggressive full-length spoiler, and ultra-sticky Pilot Sport Cup rubber to a car that was already seen as the peak of what the US auto industry could do. The result of these upgrades was a new production car Nürburgring record, more than six seconds faster than the '09 car. Of the 375 built during the RPO's two-year run, this is one of 184 minted in 2012.

The Corvette's signature red pairs spectacularly with the black accents of the PDE package. Red brake calipers and an Ebony interior with red stitching complete the look. It appears in showroom stock condition, except for the tinted windows. The tinted unibrow on the windshield would have to go if we were lucky enough to add this beauty to the CorvetteBlogger fleet, but like Salma Hayek as Frida Kahlo, it is something we could get used to. It also warms our hearts to see the amount of respect this "lowly" decade-old Corvette is starting to get! MacChar is asking $134,996 for the pleasure of adding these 638 horses to your stable. It is worth every penny!

Source:
McLaren Charlotte

Related:
Custom 1966 Corvette Restomod Named 'Blue Diamond' Headed to Barrett-Jackson Houston
Corvettes for Sale: One-Owner 1963 Corvette Convertible Stored Since 1974
Corvettes for Sale: 1955 Roadster Was Used to Test 3-Speed Manual Transmissions