This 1963 Corvette convertible once played a prominent role in the original owner's life, including apparently transporting his new baby Rick home from the hospital in 1968.
Somewhere along the way, though, the car fell out of favor after 11 years and 85,000 miles of use, perhaps because of a cooling issue, or maybe it just wasn't a suitable family car and hasn't been driven since 1974.
The original owner's son, all grown up now, has inherited the car, but now he's ready to liquidate his dad's estate and send this Sting Ray to a new home via a listing on Bring a Trailer.

This second-generation Corvette was sold new by Circle Chevrolet in Red Bay, New Jersey, and the original MSRP was $5,018.75. After trading in a 1957 Ford for which he received $818.25 and paying a $100 down payment, the customer drove out the door owing $4,100 – not bad for a new Sting Ray said to be worth $50,000 today in fair condition. With just one day left in the auction, however, the high bid has climbed to only $36,000.
Naturally after sitting so long, the car does come with some issues.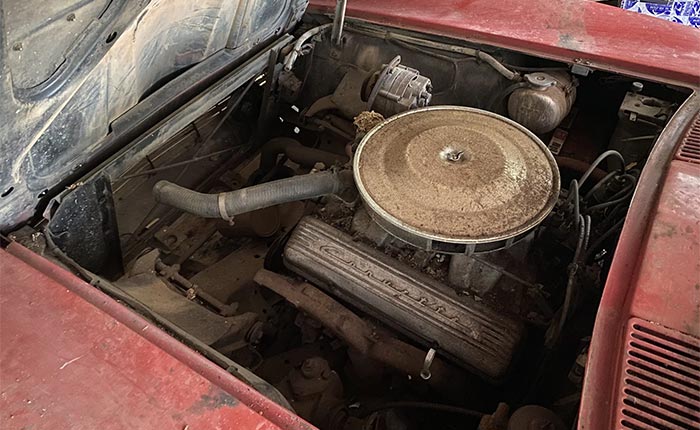 The Riverside Red paint could definitely use a respray, though the body appears to be in decent condition. A receipt from 1965 does show some minor fiberglass repairs to the front end apparently made after an accident. The matching red interior has seen better days, with the driver's seat, door panel, and dash cracked now and possibly covered with mildew from sitting so long. It'll also need new carpet and a replacement for the missing radiator, as well as some new dials and switches on the console, and the bumpers will need to be rechromed due to pitting. While a white ragtop is included with the sale, it looks like there is at least one small hole in the fabric. It'll also need a set of new tires, too, and don't forget about the possibility of rust from being in that New Jersey air so many years.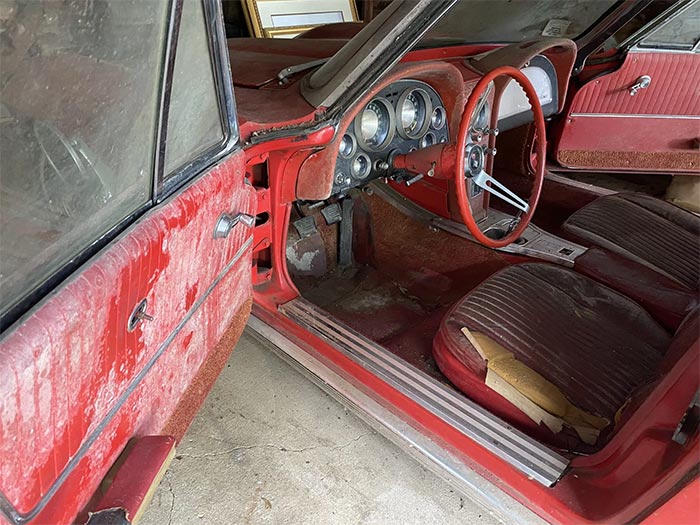 But the news isn't all grim. The original 327 L76 V8 that produced 340 horsepower is still under the hood, and it's still linked to the original four-speed manual transmission. How well those operate today we don't know, however.
The new owner will also receive a passel of original documentation, including the original bill of sale, a couple of vintage photos showing the original owner standing next to the car in better days as well as the aforementioned photo of the baby coming home from the hospital, service records, and manufacturer's literature, along with a clean New Jersey title.

Source:
bringatrailer.com via BarnFinds.com

Related:
Corvettes for Sale: 1955 Roadster Was Used to Test 3-Speed Manual Transmissions
Corvettes for Sale: Chocolate '65 Corvette Roadster with Custom 'Corvette Summer' Flares
Stunning 1963 Corvette Split Window Restomod From Jeff Hayes Customs Headed to Barrett-Jackson