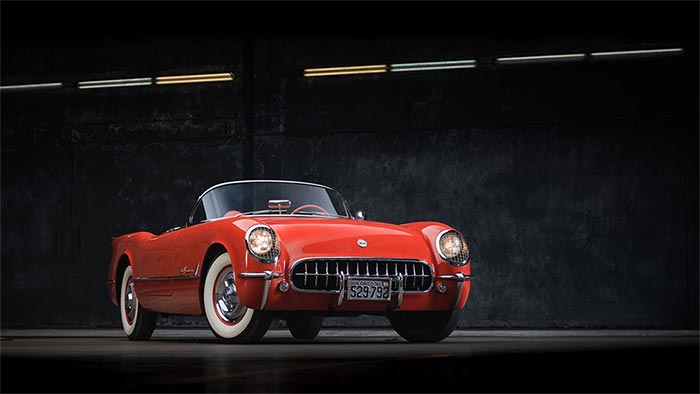 Only 700 Corvettes were built during the 1955 model year, making every single '55 a rare car indeed.
But the one up for sale on Bring A Trailer through Wednesday has even greater historical significance than usual.
Chevy is believed to have built this car in 1955 to evaluate the three-speed manual transmission before it was to be offered as a factory option later that year.
According to the Corvette Black Book, only about 70 to 80 of the '55s wound up with the three-speed manuals instead of the more popular Powerglide automatic.

After being sold in California in the 1960s, the car was first restored by an Oregon owner in 1988, who subsequently was rewarded for his efforts with an NCRS Top Flight award at the Northwest Regional Meet on June 29, 2002. The current owner obtained the car in 2018 and had a service performed in March 2019 by Gibson Auto & Electric in Portland, Oregon, including a rebuild of the brake master cylinder and the installation of new wheel cylinders and brake shoes. He also had the five-digit odometer reset at that time, and it now shows just 62 miles, with the total mileage over the past 66 years unknown.

Today the extensive photos included with the listing show this historic Corvette remains in absolutely stunning condition.
Coated in red paint, the car features light beige upholstery with a red dash pad and carpet and a 265/195 horsepower V8 (only seven '55s had the much weaker Blue Flame 235 cubic inch straight-six 135 horsepower engine that had exclusively powered the '53s and '54s).

Bidding, which has reached $82,000, comes to a close on Wednesday, and it has a long way to go to establish a new Bring a Trailer record for C1 Corvettes by exceeding $153,000.

Source:
Bring A Trailer via motoringresearch.com

Related:
Corvettes for Sale: Chocolate '65 Corvette Roadster with Custom 'Corvette Summer' Flares
Stunning 1963 Corvette Split Window Restomod From Jeff Hayes Customs Headed to Barrett-Jackson
Corvettes for Sale: 11k-Mile 1995 Corvette ZR-1 on Bring a Trailer