Time and again we've seen that General Motors isn't shy about utilizing advanced materials in the manufacture of automobiles, and when they are used, most likely that application was found on the Chevrolet Corvette.
Magnesium is one such material that has been featured on the Corvette before as it is lighter and more rigid than aluminum, so it makes perfect sense that automotive engineers would want to incorporate the metal alloy to help reduce weight when possible. GM estimates that a vehicle's fuel economy improves 7% for every 150-kg reduction in weight, and to give you an idea of the potential weight savings, a part made from magnesium alloy is 30% lighter than those made from aluminum alloys.
In the past, the C5 Corvette featured magnesium wheels that helped to reduce the unsprung weight of the car while the C6 Corvette ZR1 saw the material used on the chassis with specific applications on the engine cradle and the roof.
But General Motors has come a long way since those examples. Fifteen years ago, GM was part of a coalition of auto manufacturers and the US Department of Energy to test the use of magnesium alloys for engine blocks, and in 2014, GM China began operations of a magnesium alloy Vertical Squeeze Casting (VSC) machine for developing next-generation magnesium castings which would allow mass production of the lightweight metal.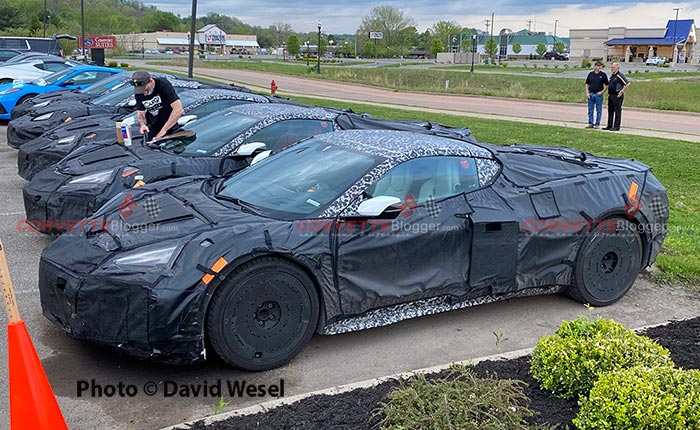 Fast forward to April 28, 2021 where a group of Chevy engineers was testing the C8 Corvette Z06/ZR1 Prototypes in Marietta, Ohio. Local Corvette enthusiast Dave Wesel was there and captured the engineering team starting up the prototypes and leaving the grounds for a full day of testing.
Another Corvette enthusiast saw that post and did something that many of us have always wanted to do. Driving from South Carolina to Ohio, he mounted a sneak attack on the cars in the middle of the night to gather data on the next-generation Corvettes. Brandon Byers of the Vette Titans Facebook Page recently began sharing some of what he found under the Corvette prototypes: the signature color of magnesium alloy on the case of the TREMEC dual-clutch transmission:

This isn't the first time that the lightweight alloy has been used on a transmission casing. Vette Titans also shared a link to the Mercedes-Benz 7G-Tronic transmission that went into production in 2003 that utilized magnesium alloy for its casing.
As the DCT for the Corvette Stingray weights in at just over 300 lbs, utilizing magnesium to lower the weight of the transmission's casing could pay instant dividends on light-weighting the track-focused Z06.
In an exclusive interview with Rick 'Corvette' Conti, Brandon explains why he wanted to see the cars up close and personal and how he was able to do so despite the fact that the security guard was very good at doing his job. From the footage he was able to get over several hours with the car, he notes that there were no turbos found on the car which deflates our theory of the center-mounted exhausts being the ZR1s. He also says that he doesn't believe that Chevy designers have fully finished the rear fascia of the car. You can see the entire discussion here which features footage from Brandon's night with the prototypes here:

Source:
Brandon Byers / Vette Titans Facebook Page and Corvette Conti

Related:
[SPIED] Exclusive Video and Pics of the C8 Corvette ZR1/Z06 Prototypes Testing in Ohio
Will the C8 Corvette Z06 Get Magnesium Alloy Wheels Like the Cadillac V-Series Blackwings?
[VIDEO] Chevrolet Confirms the 2023 Corvette Z06 to Be Revealed This Fall