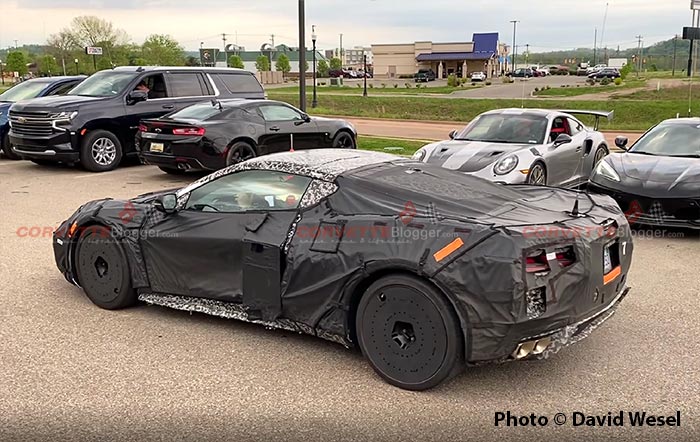 We know that yesterday's spy video of the C8 Corvette Z06 utilizing Launch Control for those wide-open throttle runs got a whole lot of you very excited about what's to come. We are very much looking forward to seeing how the C8's performance model will perform both on the track as well as for daily driving.
As we have discussed previously, we believe that Chevy's engineers are testing both the Corvette Z06 and the ZR1 models concurrently and are using both the Ferrari 458 and the Porsche 911 GT2 RS as benchmarks against the performance C8 Corvette prototypes. But why is Chevy utilizing the Ferrari 458 model which is now twelve years old when Ferrari has already launched two successor models to the 458?
It's all about the naturally-aspirated flat-plane crank V8.
The Ferrari 458 was the last of the prancing horse brand to be powered by a naturally aspirated flat-plane crank V8 that made 562 hp @ 9000 rpm. The immediate successor to the 458 was the Ferrari 488 GTB which was powered by Ferrari's first 3.9-liter twin-turbo that makes 661 horsepower.

The C8 Corvette Z06 is set to utilize the same 5.5-liter flat-plane crank V8 engine that is currently powering the C8.R race cars. That engine is also a naturally-aspirated V8 that has been detuned for competition to produce 500 hp and 480 lb-ft of torque. It's been rumored that the uncorked version for the street version could make somewhere between 600-650 horsepower, making it the most powerful FPC engine in a sports car. To race with that engine configuration, Chevrolet had to commit to building a street car with the flat-plane crank engine as well. That's how homologation works and why we know that the Corvette Racing team is essentially providing the powertrain testing for the Z06. (As the ZR1 is expected to be the twin-turbo variant of the flat-plane crank V8, they need to thoroughly test that engine which is why we are already seeing it on the streets despite its expected arrival sometime around 2024 or 2025.)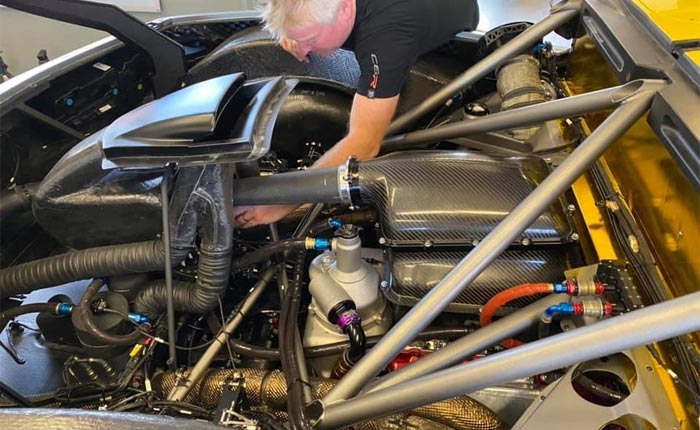 So testing the Ferrari 458 against the C8 Corvette Z06 is in fact an apples-to-apples comparison, the same way that the 700-hp Porsche GT2 RS twin-turbo is being benchmarked to the (rumored 800-hp) twin-turbo C8 ZR1.
Not only was it fun watching yesterday's spy video of the C8 Corvette Z06, but it was also equally fun listening to it.
Like the Ferrari 458, the C8 Corvette Z06 is a high-revving engine with a red line rumored to be 9000 rpm. And what we heard in that spy photo sounded exactly like a high-revving exotic sports car. As a comparison, I have embedded the spy video again below but above it, I have a short video with a Ferrari 458 offering some tasty revs and acceleration runs before venturing onto the German Autobahn for a 200 mph top speed run. At various points, we can see the driver revving up to 9000 rpm on the tach as well.

While the high-revving C8 Corvette Z06 sounds like a good idea in theory at least, there are some major pitfalls that we are sure that Chevy is working to sort out. The biggest one is that the flat-plane crank V8 engines traditionally have a smaller displacement due to the fact that they generate a lot of vibration. We are assuming that Corvette Racing has this figured out considering the success they have had on the track. But they are only operating at 500 horsepower. What happens when you add an additional 100-150 hp to that engine? Ford has had issues with its flat-plane crank V8s codenamed Voodoo and just googling "problems with Ford Voodoo engine" brings up all kinds of reported issues ranging from high oil consumption to blown engines. After the C7 Corvette Z06's engine cooling and limp mode debacle, Corvette engineers have no room for error when it comes to the C8 Z06.

Source:
Photo Credits: David Wesel
Related:
[SPIED] C8 Corvette Z06 Prototype Practicing Launch Control and Flat Out Acceleration
Scouting Report: Ferrari 458 Italia
[SPIED] Exclusive Video and Pics of the C8 Corvette ZR1/Z06 Prototypes Testing in Ohio