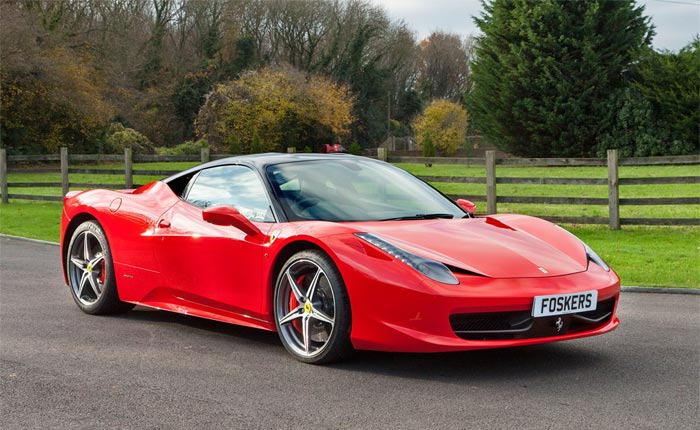 As a part of their C8 Corvette review, YouTube channel The Fast Lane Car (TFL), spoke to Corvette Chief Engineer Ed Piatek about which cars General Motors has purchased for benchmarking purposes. Ed followed the company line and didn't reveal anything that we don't already know, citing our old friends, the Ferrari 458 Italia and the Porsche 911 GT2RS, which have both been seen testing along with camouflaged C8 mules that speculators have labeled Z06 models.
At this point, you might be wondering to yourself, "What is it about a German that "wrongly" places its twin-turbo flat-6 behind its rear axle and a Ferrari that is so old that it debuted at the same auto show as a SAAB and has also had its successor spawn its own successor that has the Corvette Team's attention?"
Well, intrepid readers, we are here to lend a helping hand by investigating our favorite car's intended performance and driving quality targets in depth, starting with the prancing horse from Maranello.
Part I: 2010-15 Ferrari 458 Italia

The Basics:
| | |
| --- | --- |
| Engine | 274 ci, 4.5L DOHC 32-valve V8, Aluminum block and heads, flat-plane crankshaft, direct fuel injection |
| Horsepower / Torque | 562 hp / 398 lb-ft |
| Transmission | 7-speed dual-clutch (Getrag) |
| Weight (Distribution) | 3,450 lbs. (43/57%) |
| 0-60 | 3.0-3.3 sec. |
| Quarter Mile | 11.3 sec. @ 127 MPH |
| Top Speed | 202 MPH |

Technical Achievements and Facts:
The first mid-engine Ferrari to feature direct injection, 9,000 RPM redline, 80% of its torque is available from 3,250 RPM, most power per liter of any naturally aspirated V8 in history (in the high-performance "Speciale" version), the final mid-engine Ferrari designed by Pininfarina.
Important Characteristics, Quotes, and Links:
There are numerous other figures that we could have placed in the past two sections including braking and handling info, but, in 2020, they don't sound as impressive as they once were and we wanted to keep numbers to a minimum because they aren't what the 458 is all about. What the final naturally aspirated V8 Ferrari brings to the table is unrivaled engagement, enjoyment, and even soul.
In this comparison test that pitted the 458 against the McLaren MP4-12C and the prior generation 911 GT2RS, Car and Driver summed up the car's soul perfectly when they said "(The Italia) is perhaps the closest man has come to creating an animal." And continued by proclaiming "The wail from the V-8 engine is ever-present… creeping into your spine, spiking your heart rate."
Speaking of that wail, if you haven't ever heard the ferocity of Ferrari's 4.5L V8 and the insanely quick revs that it is capable of, you need to take a quick break to watch this video, we will wait. Wasn't that glorious? The thing revs more like a superbike than anything normal people get to hear with any regularity. If GM's flat-plane V8 can come even close to emulating the Italia, or, preferably, the 458 Speciale's powerplant, we are in for one heck of a treat!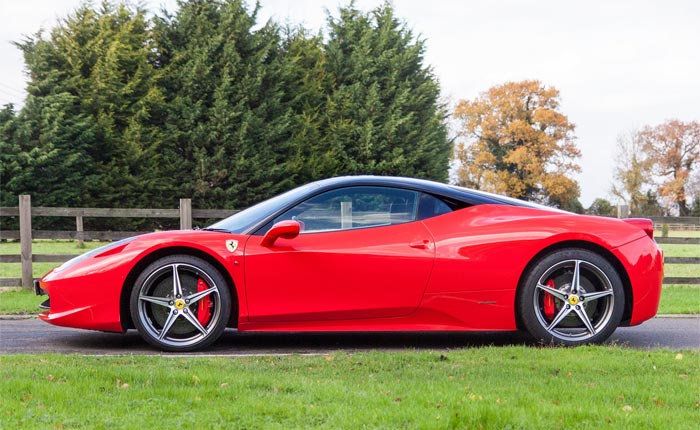 It isn't just the sublime engine that bestowed legendary status on the 458 either. In an even bigger and better C&D comparison, the Ferrari's steering was called "laser-accurate" while the transmission was deemed "the best paddle-shift box in the world." An often overlooked piece of a great car, the seating position, also drew rave reviews, "a far-forward seating position—crew members said they felt as if they were riding the front axle—and panoramic forward sightlines gave drivers a sense of control."
The overall feeling you get when reading reviews about the 458 is that its steering is "telepathic," and its "dynamics are almost above reproach" but you may have noticed that it didn't take first place in either of those comparison tests but that always boiled down to the steep asking price when compared to the other contenders, something that a copy-cat Corvette could fully remedy.
When thrown into a test that doesn't consider transaction price, just which car is best to drive, like MotorTrend's Best Driver's Car, the 458 couldn't be beaten by one of, if not THE, best fields in the history of the event.
On that note, it feels like we should take a break for more of that sonorous flat-plane shrieking. This time the video comes courtesy of Motor Trend's BDC competition linked in the previous paragraph and it features MT's hot-shoe, and multiple time Laguna Seca track record holder, Randy Pobst throwing the 458 around the famed NorCal circuit.

As mentioned in one of our own links above, Tadge Juechter actually brought up the 458 at the C8's official reveal in July, calling it the "best sports car ever," a sentiment echoed in MT's first drive review that called it "one of the prettiest and best-engineered supers of this century."
Which brings us full circle to TLF and Ed Piatek's interview where Ed said that they even disassembled their 458 "to see what makes it work" and if that level of dedication doesn't get you excited for the near future of America's Sports Car, kindly leave!
Conclusion:
All-in-all, not a bad car to model the C8 and its future variants on when you are taking your first stab at a mid-engine design. The 458 Italia is still revered amongst Ferrari enthusiasts as the highwater-mark of the ME/V8 lineage, much like air-cooled 911s have been placed on a pedestal by Stuttgart's most faithful. Stay tuned for part II of this post where we will breakdown the yardstick that Porsche contributed to the process of C8 validation.
We will leave you with one more 458 video by the most famous car reviewer of all-time, then of Top Gear, Jeremy Clarkson, who takes the opportunity to bash his co-host's purchase of the 458's predecessor, the F430 (which has since been replaced by… a 458).
Related:
Scouting Report: 2020 Shelby GT500
[VIDEO] Ferrari 458 Encounters a 2015 C7 Corvette Z06 on the Street!
[SPIED] Two C8 Corvette Z06 Prototypes Were Caught with a Ferrari Merging onto I5 in Valencia