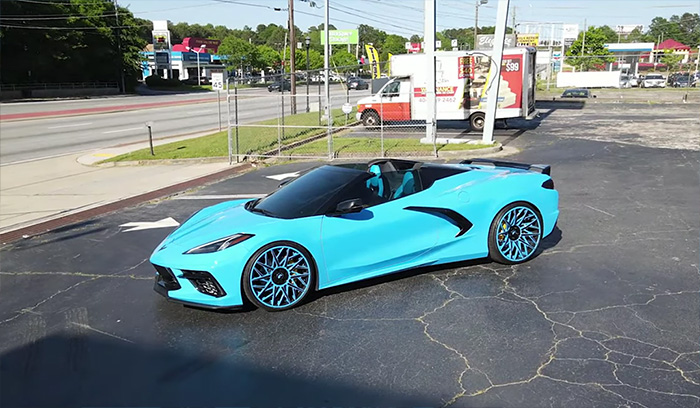 I guess this answers the questions on whether or not 22-inch rims will fit on a C8 Corvette. And with 21s on the front, there's no need to lower it to get rid of that wheel gap…amirite?
In fact, wheel-gap is virtually non-existent on the Corvette and we are wondering if there are any compromises that come along with a staggered 21/22-inch set-up versus the stock 19/20s that come on the car from Bowling Green.
We caught this Rapid Blue C8 Corvette Convertible posted to YouTube from WhipAddict showing the car at an Atlanta meet-up and we are simply captivated by the Forgiato rims under it. We've only seen a preview of one other car with 22-inch wheels on the rears, and we were waiting for it to be posted from our friend Morgan Crosbie when this Rapid Blue Coupe slid into our timeline.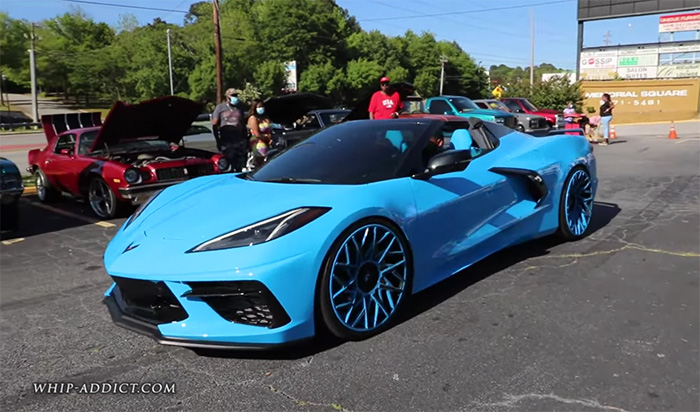 It's just a five-minute video, but it features everything we like including a bit of drone footage that shows off the two-tone Blue interior in the car when the top is down.
To figure out which wheels these are, we hit the Forgiato website and were able to find them right away. These wheels are the Forgiato Blocco-ECLs customized to match the Rapid Blue Z51 Convertible. The black accents with the Black and Blue center cap match the car perfectly and we like the concave design that you can really see when the car is at the right angle.
From WhipAddict via YouTube:
The homie @allaround_towing_llc just copped the new body C8 Corvette, Light Blue with black and light blue interior, and immediately drooped in on 21s 22s Concave color matched rims from Rim Source Motorsports and mounted up by Butler Tire! One of the hardest I've seen! What do you think?

Source:
WhipAddict / YouTube

Related:
[VIDEO] C8 Corvette Chased by a Police SUV is Actually a Promotion to Sell Aftermarket Wheels
[PICS] 2020 Corvette Stingray Rides on Avant Garde M520-R Monoblock Wheels
[PICS] Rapper's Two-Tone C8 Corvette Triggers References to Batman Villain Two-Face