Very few sports cars are both a summer and a winter, but… this C8 Corvette pulled it off nicely.
Of course we are paraphrasing a line from the movie Batman Forever with Jim Carrey's Ridler describing the White and Black liar belonging to the co-villain in the movie, Two-Face, played by Tommy Lee Jones.
Unlike Batman Forever, this two-face Black/White C8 Corvette really does exist.

Created for hip hop artist Boosie by Champion Motors in San Diego last year, we have to wonder if the artist was "of two minds" when choosing to outfit his mid-engine Corvette in Black or Arctic White and finally came to the unorthodox conclusion to have both.
Boosie's C8 Corvette is split right down the middle with the driver side being Arctic White and the passenger side being all Black. The Corvette also received a set of custom wheels from Forgiato which are also differentiated by color as well. We believe that both the White and Black wheels on the car are a version of the Maglia forged wheels which start at an eye-popping $8,772 for the set.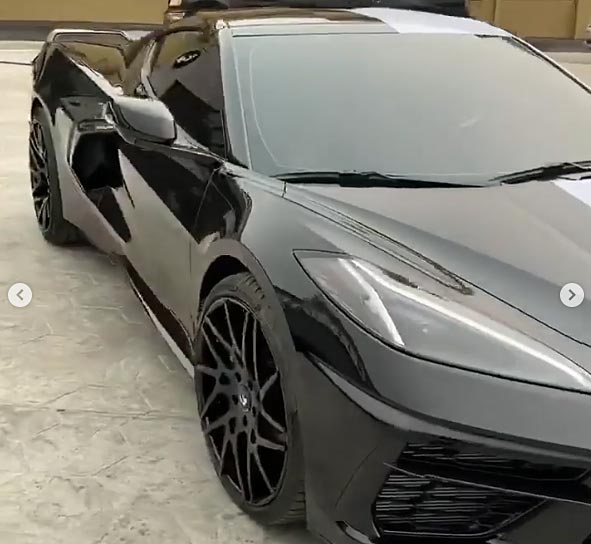 The Instagram post tags the photo set with "#3LTVibes" and on the inside is the 3LT interior with GT2 Nappa leather seats and red stitching.
So what's your thoughts on this two-tone mid-engine Corvette? Personally, I think Boosie should be committed to Arkum Asylum for unleashing such a creation on society but considering that facility's poor track record in keeping repeat offenders locked up, we'll let it pass this time.

Source:
Champion Motors / Instagram via AutoEvolution.com

Related:
[VIDEO] Rapper Blueface Casually Drives His C8 Corvette to 157 MPH
[ACCIDENT] Rapper Rod Wave Wrecks New 2020 Corvette Stingray
[VIDEO] Rapper Lil Baby Pulled from Orange Corvette Z06 and Arrested for Reckless Driving