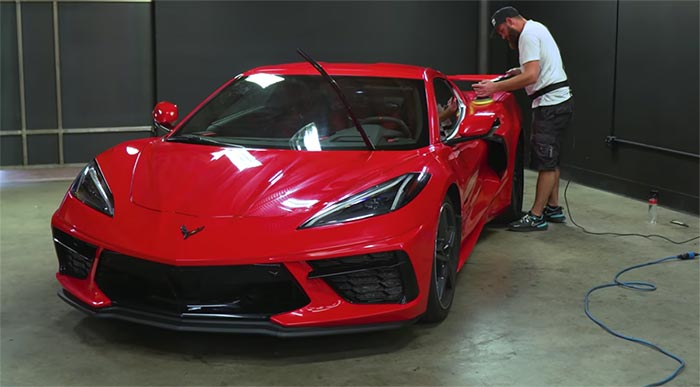 As we shared last week, Austin from the Speed Phenom YouTube channel has decided to sell his C8 Corvette as he prepares for a future C8 Corvette Z06, and so he took the car to a detailing shop for a refresher.
While most would just drop off their car and then go do other things, Austin sticks around and captures his car's stunning rejuvenation to remove all the rubber and tar accumulated from 22,000 miles of hard driving and multiple track days. A few months ago when the car had just 17,000, Speed Phenom offered this video showing how the track events had taken a toll on the exterior of his Torch Red Corvette, so we were looking forward to seeing all that corrected at the detailer.
It's a different kind of video that we usually share, but something that we can all relate to.
From Speed Phenom via YouTube:
Major transformation of my Torch Red C8 Corvette for the all-new upcoming high performance variant. Join me at Elite Finish in San Diego California as we completely restore the mid-engine corvette to showroom finish after 22,000 miles.

Source:
Speed Phenom Recaps His First Year of C8 Corvette Ownership
Speed Phenom's C8 Corvette Races a 641-hp Lamborghini Urus SUV at the Dragstrip
Speed Phenom Offers Detailed Review After Racking Up 17,000 Miles on His C8 Corvette