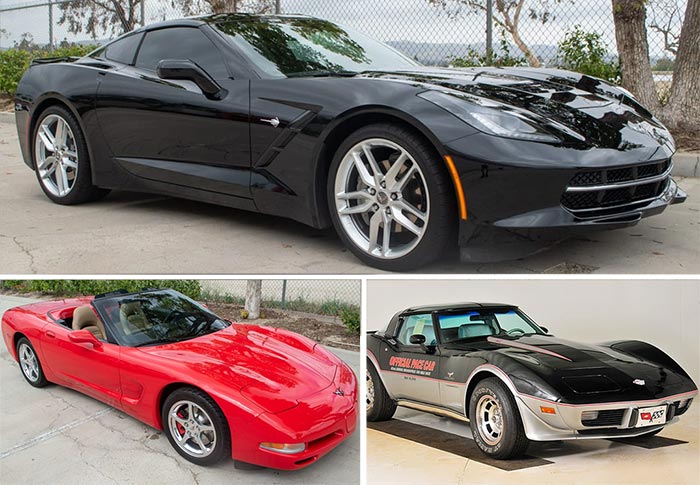 May is here already and summertime is just around the corner. If the last year has taught us anything, it's to not wait until the "perfect time" to fulfill your Corvette dreams. Things can happen to us at any time, so get out there and start living the Corvette lifestyle behind the wheel of a classic or pre-owned Corvette.
To that end, we head over to our friends at Corvette Mike in Anaheim, California as we check out the inventory of one of the country's best-known resellers of classic and modern-day Corvettes. Here are three Corvettes that check all the boxes for us, and we think you'll like them too.
1978 Corvette Indy 500 Pace Car

In 1978, Chevrolet's Corvette served for the first time as the official pace car for the 500-mile race. That year, sales for the 1978 Corvette Indy 500 Pace Cars were unprecedented thanks to a Wall Street Journal article and many of these special editions were scooped up at prices way over MSRP and then stored away as investors waited for the "perfect time" to sell for a profit. And you can guess what happened afterward.
One of those black and silver Pace Cars that were squirreled away is now available at Corvette Mike with the very desirable L82 350/220-hp engine and it has just 921 miles on the odometer. We can bet that CorvetteMike.com has had their share of low-mileage '78 Pace Cars come through their showroom over the years and they are claiming this is one of the best-preserved originals they have seen. The paint still looks new and the graphics continue to show well with no fading or other blemishes. It's even presented with its polished wheels wrapped with the original tires. The chassis still has its assembly line crayon markings and all the smog equipment is still on the car.
Inside the Indy 500 Pace Car is the bright silver interior that was only offered with the special edition. The air conditioning blows cold, the retractable headlines turn in unison and all the gauges are operational. Heck, even the clock is right twice a day (but only twice!) Documentation includes the original build sheet, window sticker, and owner's manual. If you're looking for a time machine for Bloomington Gold or NCRS Top Flight judging, this is the one! Check out this video walk around with the car running:

Corvette Mike is offering the 1978 Corvette Indy 500 Pace Car for $39,900. Click here for the full info and contacts on this fantastic special-edition Corvette.
2002 Corvette Convertible

One of the best all-around bargains in the sportscar world these days are 5th generation Corvettes. Corvette Mike received this Torch Red 2002 Convertible from a local female resident who used it as her weekend fun mobile, and because it wasn't a daily driver, there are only 19,305 miles on the odometer. The condition of the car is outstanding with flawless paint, a black canvas convertible top, and chrome five-spoke wheels with the C5 logo center caps.
This 2002 Corvette Convertible was optioned with the 1SC Preferred Equipment Group which provides the all important Head-Up Display plus options like the 6-way powered sport bucket seats, electronic Dual-Zone climate control, memory package, fog lamps, twilight sentinel, and electrochromic mirrors. The inside of the Corvette features Light Oak interior and black floormats featuring the C5 Corvette crossed flags logo. We also appreciate that the car is without the body side moldings which we think distracts from the gorgeous side appearance.

The prior owner also added some tasty modifications to the car that any future owner will appreciate. The brakes were upgraded with cross-drilled rotors and red-painted calipers on all four wheels. The sound system features Bluetooth and the ability to tune into your favorite SiriusXM satellite radio stations, and it even comes with a Borla exhaust system which is a great option for top-down driving.
This C5 Convertible has been well-maintained since new with regular service performed and it recently received new Goodyear F1 run-flat tires along with a four-wheel alignment. No price is listed, so contact them for details.
2015 Corvette Stingray Manual Coupe

Our final selection from Corvette Mike would be this Black/Black 2015 Corvette Stingray Coupe. The C7 Corvette Stingray is a fun car to drive and the coupes have a ton of room and storage space for those weekend road trips or a major shopping trip at your local Sam's Club. This particular Stingray is even more enjoyable to drive as it features a 7-speed manual transmission.
This C7 Corvette Stingray has been very well cared for by its one and only owner and it has just under 14,000 miles on the odometer. The Stingray was ordered with the 2LT trim package and its major options include Head-Up display, premium audio with/surround, memory package, heated and ventilated seats. Additional options include the ZF1 Appearance Package which adds the Z51 rear spoiler. It also comes with the NPP Performance Exhaust and the Performance Data Recorder.
A walk-around video shows just how good this car looks. The black exterior shines with an almost mirror-like finish while the engine compartment is so clean you could eat off it. Not that we'd recommend you do that, but this is one meticulous Stingray that deserves a second owner who will take real good care of her. Will that be you?

The Black/Black 2015 Corvette Stingray is offered for sale for $52,900. Pre-owned C7 Corvettes are highly in demand right now so if you are interested, contact CorvetteMike.com for details today!

Source:
CorvetteMike.com