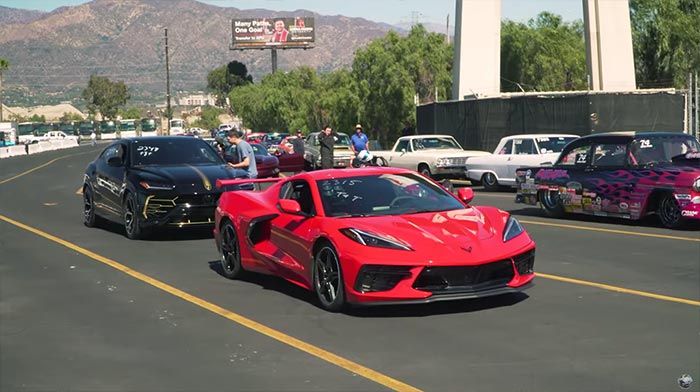 You might not think a lumbering SUV would stand much of a chance against a svelte mid-engine Corvette.
But when the SUV in question is a Lamborghini Urus packing 641 horsepower with an upgraded downpipe exhaust that adds lots of amazing snap, crackle, and pop to the soundtrack, well, anything's possible.
Our buddy Speed Phenom usually gulps down his fun in his naturally aspirated Torch Red 2020 Corvette at the race track, but today we're sharing a video that shows him uncharacteristically at the Irwindale Dragstrip taking on Chris and his super-cool Lambo Urus.

By the way, Chris also owns a similar Torch Red C8 minus the high wing spoiler, so wouldn't it be fun to face his dilemma each morning – oh my, a C8 or a Urus?
Chris says his Urus has a stock 4.0-liter twin-turbo V8, which is the same engine as the Porsche Cayenne Turbo S, but his Lambo has been a little bit uptuned and has that cool-sounding downpipe exhaust that pops every time you accelerate and then let off.

So what does Chris think of the C8 compared to the Urus? "I think the C8 is an awesome amazing car," he answers, "and it's amazing (the Lambo) can have a very similar speed to the C8 and still carry passengers."
"Look at the size difference!" Speed Phenom says. "The C8's way down there, and then the Lamborghini SUV is super tall. It's gonna be really interesting to see how a lightweight C8 mid-engine super sports car launches compared to an all-wheel drive high-horsepower Lamborghini SUV."
Indeed, the Urus weighs 4,850 pounds, compared to the 3,366 pounds of the Corvette.
Both cars are using their original OEM tires on the rear, by the way.

Check out the video to see the outcome of these two 1/8-mile races, but we will go ahead and spoil it for you by noting that the Stingray runs an impressive 2.6 0-60 time! It appears that it's a split decision, and it would have been that way on the street because the Urus driver gets a much faster jump on the second run. In actuality, though, the strip uses Elapsed Time metering so the Corvette winds up the winner, but considering the weight difference, it's amazing that the Urus is able to hang so close.
As Chris says, "the C8 is one of the most amazing launching cars of today, so just to be able to hang with it, that's awesome!"
Note: Watch the whole video to see some bonus footage of Speed Phenom's contest with a Toyota Supra.

Source:
Speed Phenom / YouTube

Related:
[VIDEO] Speed Phenom Offers Detailed Review After Racking Up 17,000 Miles on His C8 Corvette
[VIDEO] Speed Phenom Nukes the Brakes on his C8 Corvette Z51 at the Track
[VIDEO] Watch a 2020 Corvette Z51 Set a New C8 Lap Record at Laguna Seca