Borla has long been a popular go-to choice for aftermarket exhaust systems for the Corvette and we think its latest offerings for the C8 Corvette will have Corvette enthusiasts taking notice. If you're considering an aftermarket exhaust, you'll definitely want to hear these new systems in action.
In a YouTube video released late last month, David Borla shares the details of their new S-Type and Atak exhaust systems for the C8 Corvette and takes us on a very thorough walk-through showing all the technology and engineering they put into the new systems.

But before we hear from David, we get three minutes of C8 Corvette exhaust notes with comparisons of the stock Tennico NPP exhaust to that of Borla's S-Type and Atak models. We call it a comparison, but it isn't really for those who think the C8 Corvette should have come with a deeper-sounding exhaust.
The S-Type has a very nice roar that pops and crackles when the rpm falls and it's surprisingly quiet at idle. On the other end of the spectrum is the Atak which offers a very deep, raw, and sustained roar as the Corvette was doing its pulls. Both systems take advantage of Borla's trademark Polyphonic Switchfire tuning to offer richer and fuller sounding exhaust notes.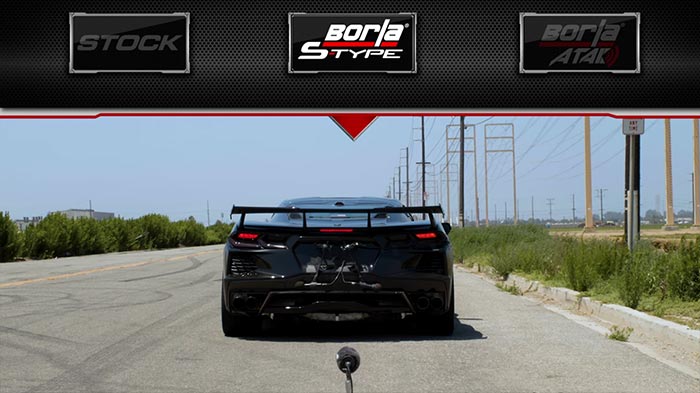 The other aspect of the Borla's systems we like is the attention to both aesthetics and purpose is use of heat shielding to keep other components from being fried by the hot gasses passing through the system. The look of the system with the heat shielding in place presents very well and doesn't resemble some of the earlier systems that look cobbled together. Owners can also customize their look as three exhaust tips are offered in your choice of polished, black, and carbon fiber.
Following David's discussion on the system, Corvette Hall of Fame racer Johnny O'Connell takes a C8 Corvette equipped with a Borla Atak exhaust to the track for his impressions of the sound. Spoiler alert: He loves it!

No ETA yet on when the new systems will be available, so check out Borla for the latest news and updates.

Source:
Borla via AutoEvolution

Related:
[VIDEO] Borla Talks C8 Corvette Exhaust Development
[VIDEO] MBRP Introduces a Cat-Back Exhaust for the C8 Corvette
[VIDEO] C8 Corvette Convertible Receives a Titanium Exhaust Upgrade at Late Model Racecraft