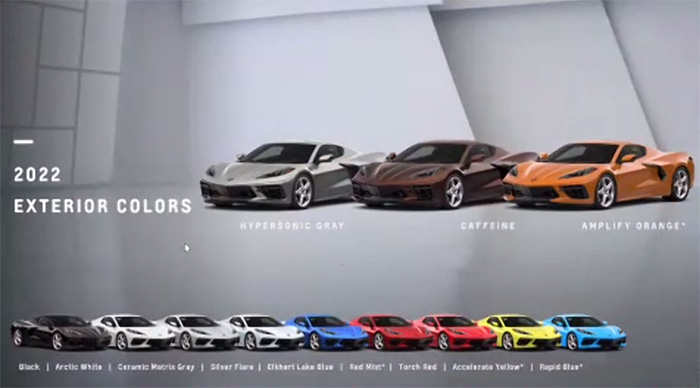 Photo Credit: Chevrolet

Short of a glimpse of the upcoming Z06, or better yet, a listen to its V8 wailing at 9,000 RPM, we were treated to the most exciting update for year three of the eighth-generation Corvette yesterday. The trifecta of new colors officially broke cover at the annual NCM Bash during a presentation by Corvette Assembly Plant Director Kai Spande and Paint and Body Manager Chuck Valentini.
The three new paints were applied to the C8 body panel that spans the length between the rear clip and the side-scoop. Unfortunately, the exhibition took place indoors, so the wait to see the hues in direct sunlight continues. We would have also enjoyed seeing the boomerang attached to the sample body pieces to give us an idea of how they look with the Carbon Flash accent, but they were shown on some very fine-looking easels that almost make up for our minor gripes! We do think that the color reveal was enough for some perspective 2022 Corvette owners to start planning their build, and we are curious about yours! Did the spec of your mind's perfect '22 Stingray change exterior RPOs yesterday? Which way are you leaning now? Here are your options:
Caffeine:

We will start the poll options stage right, with the most surprising of the new tones, G48 Caffeine! When it was announced that the Corvette palette would retain an optional brown paint after Zeus Bronze could only muster 548 orders in year one, good for last place in 2020, many in Corvette Nation were skeptical. The Corvette team saw that low bar and absolutely blew it away yesterday! Caffeine strutted onto the stage, looking more like a richer take on the popular Daytona Oranges of C6 and C7 fame than anything that has ever been described as brown. After hearing Chuck describe the multitude of metallics in this paint, we got all jittery and realized how the Brown, Orange, Burgundy, Red, Gold hue got its name, and again, when we saw the circular paint sample under the spotlight, we also understood its official GM designation of "Galactia Metallic (1)" We can't wait to see a full-bodied C8 slathered in this color, we think it will be stunning and has a good chance of being that color that you still get excited about each time you have a chance encounter with it in the future!
Amplify Orange:

Those who joined us in our desire to bring back an oldie but a goodie with Hugger Orange should be pretty thrilled as we move on to the centerpiece of the presentation, GC5 Amplify Orange Tintcoat. Anyone who has ever seen a McLaren Orange… McLaren should have no doubt as to how great the "Rapid Blue of Oranges" is going show on the newly-exotic Chevrolet!
Hypersonic Gray:

Fans of the #4 C8.R might finally have their chance to channel Oliver Gavin and Tommy Milner with GA7 Hypersonic Gray Metallic! We say "might" because it hasn't been confirmed that this is, in fact, "racecar" silver, but indoors, it sure looks like it could be! This highly metallic medium gray was described as "having a lot of travel."
One of the Carry-over Colors:
Are you still on board the '21 color train? For 2022, you'll still have the option of ordering (in alphabetic order), Accelerate Yellow, Arctic White, Black, Ceramic Matrix Gray, Elkhart Lake Blue, Rapid Blue, and Torch Red, along with the two recently added colors, Red Mist and Silver Flare. If you are sticking with one of the OGs, let us know which one has your allegiance in the comments!
A Different Color:
If you don't see anything you like in the exterior paint options for '22, we want to hear from you, too, and you might have a point! When we look at the offerings for next year, we can't help but see an overabundance of grayscale representation; what is this, a Mercedes sedan!? Out of the 12 available colors, five of them lie somewhere between Black and Arctic White on the visible spectrum. Do we really need silver AND two non-charcoal grays? The whole thing strikes us as a bit of a missed opportunity. Give us C8.R Silver/Gray, and maybe a color like Cyber Gray, and then throw in more real colors! We want to see GM wake up the order guide with some Verde Mantis or Stryker Purple
Loading ...

Related:
[PICS] The Three New Colors for the 2022 Corvette Are Officially Revealed at the NCM Bash
Corvette Assembly Plant Director Kai Spande Offers Update at the 2021 NCM Bash
RUMOR: Is Chevy Preparing to Start Pre-Production on the Widebody C8 Corvette?