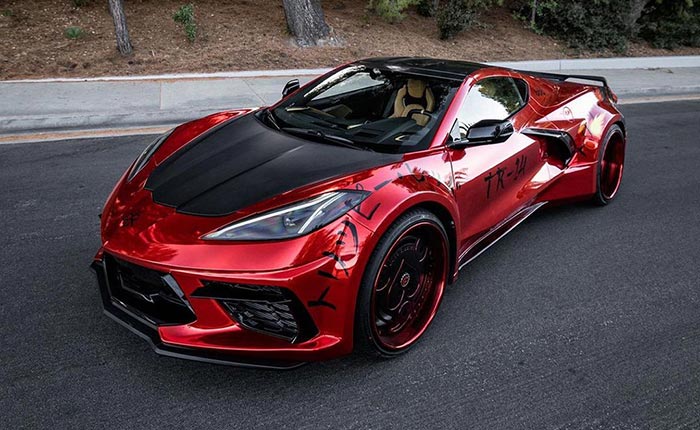 One of our favorite sayings about the Chevrolet Corvette is that "it's a canvas that allows owners to make it their own." A stock Corvette can go from mild to wild with just a few customizations whether they be a custom wrap, aftermarket wheels, or even an upgrade to the existing body.
In the case of hip-hop artist Trippie Redd and his formerly Arctic White 2020 Corvette, his vision included all three of those ingredients to take his C8 to the next level and now his Corvette is as unique and one-of-a-kind as he is.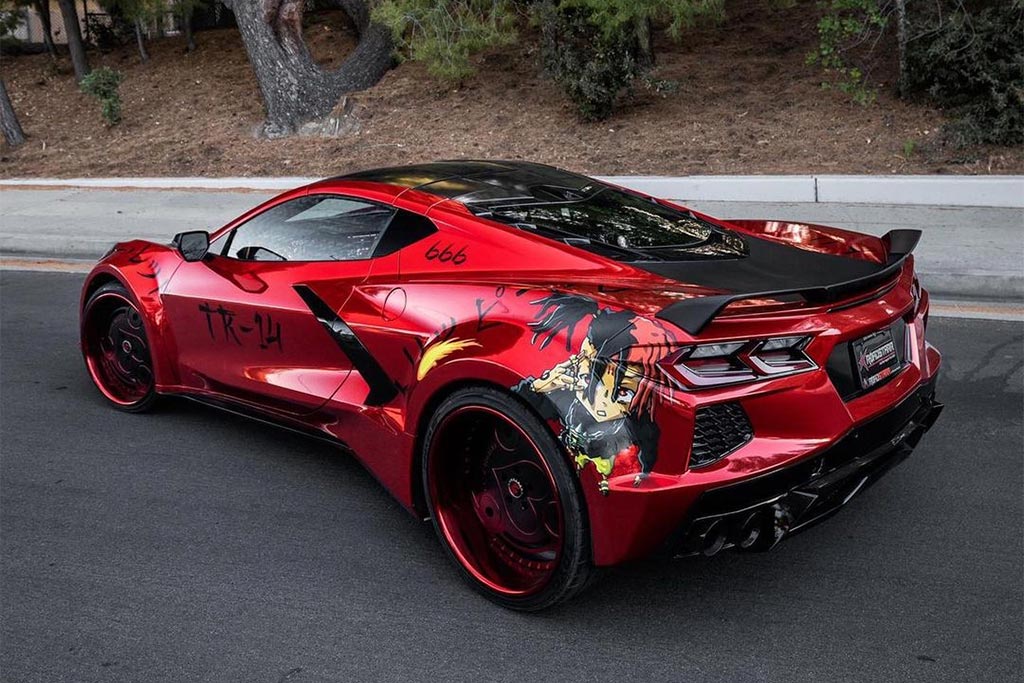 The artist purchased his Arctic White Corvette Z51 Coupe last summer through Roadstarr Motorsports in Los Angeles who was then tasked with making the customizations to the car. In this YouTube video, you can see the rapper checking out the stock Stingray and making his suggestions as to how he wants it to look when completed. We hear the multi-platinum artist mention "widebody" as well as "red chrome" and showing some artwork from his album cover to be featured as well.
This week, after months of anticipation, the new Corvette is now ready and it sure is a head-turner! The first photos of the custom widebody C8 were shared on Trippie Redd's Instagram account this week and we really like the results!

Wrapped in a Red Chrome and featuring matte carbon fiber on the frunk and rear deck, the car's dimensions were mightly improved with fender flares that house Toyo Proxes ST III tires mounted on custom Forgiato wheels that feature the rapper's name. In addition to the rapper's artwork and logos on the car, the Stingray is also equipped with an LED light package both inside and out.

What are your thoughts on this custom widebody C8 Corvette? Let us know in the comments below!

Source:
soundazed.com

Related:
[VIDEO] Walk Around a Widebody C8 Corvette on Display at the UAE's Custom Show Emirates
[PICS] Pandem Widebody Kit Shows Us the Way to Improve Upon the C8 Corvette
[VIDEO] Let's Take a Closer Look at that Slammed C8 Corvette with the Pandem Widebody Kit