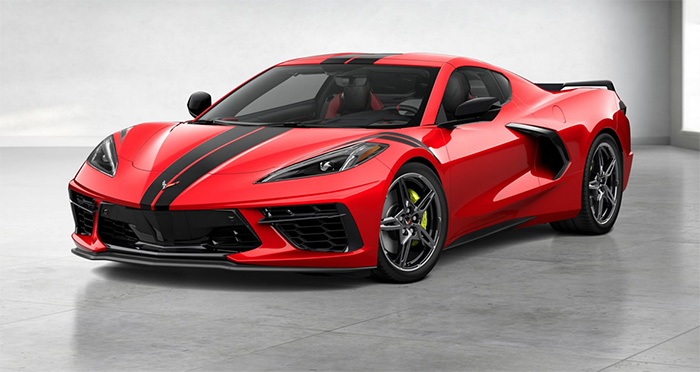 It occurred to us earlier this week that we knew the details of the last 2020 Corvette produced, a Sebring Orange Convertible, but nothing on the first 2021. We reached out to a member of the Corvette Team who shared with us that that the 2021 Corvette VIN 001 is a Torch Red Z51 Coupe that will be delivered to a customer via the National Corvette Museum's R8C delivery program.
The first 2021 Corvette was completed at the Corvette Assembly Plant on Monday and thanks to our friends at the Corvette Action Center, we have the full specs on how it was equipped.
The Torch Red Coupe is well optioned with the Z51 Performance Package plus the FE4 Magnetic shocks, and a bevy of customizations that include the full-length racing stripes along with the Hash Mark graphics and a 3LT interior complete with Competition Sport Seats. The MSRP is estimated to be $83,910.
The Red Corvette is slated for an R8C Museum Delivery and while we don't have any details on the customer who ordered the car, it wouldn't surprise us if we ended up learning the customer is not some "Joe Shmoe," but someone with "connections" to the team to be able to snag that VIN 001.

We are also trying to find out if any 2021s will be delivered to customers before the end of the year. We've been told that despite a standard model change Quality Control hold, some Corvette Team members are pushing to "clear the lots" over the Holiday break. So far we have no idea if that's happening or not so stay tuned!
Congrats to this customer for ordering what has become the very first 2021 Corvette. May it provide years of pure driving excitement!

Source:
Corvette Action Center

Related:
Final 2020 Corvette Model Year Production Update
2021 Corvette TPWs Indicate a December 14th Start Date for the New Model Year
The Final 2020 Corvette Will Be A Sebring Orange Convertible Wearing VIN #19456