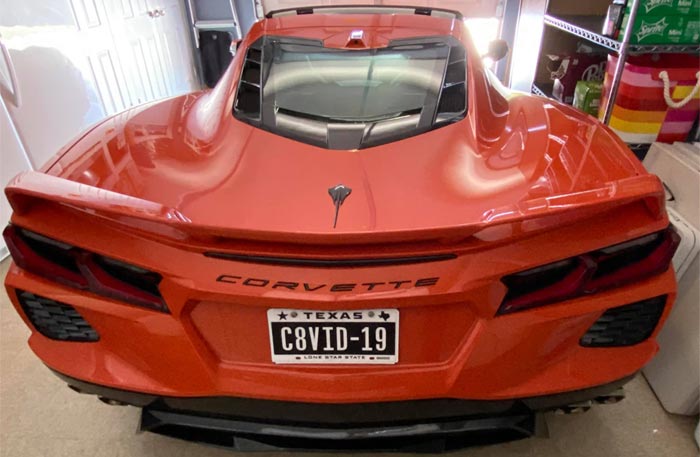 Photo Credit: Rohit Dahya

The great thing about Corvettes is that each one can be personalized to the heart's content of the owner.
Including this Torch Red 2020 Corvette Stingray belonging to Rohit Dahya of Texas.
Mr. Dahya displayed his personalized license plate on the back of his mid-engine Corvette to the C8 Corvette Owners (And Friends) private group.
And it's definitely proved to be polarizing among those who have seen it.
With the production of the new Stingray slowed considerably first by the UAW strike and then the COVID-19 pandemic, Dahya decided that a clever tag for his car would be to memorialize the health crisis by putting "C8VID-19" on the plate.
First the favorable comments, such as the one from Jane Dough-Greene: "That's freaking awesome!" Melvin Constantino posted: "okay you win for vanity plate for 2020!!!" Scott Reeves said simply: "Love it."
Others weren't so impressed, like Gary Holroyd: "Great car, shame about the plate."
John Paul chimed in: "I would hate to have something remind me of 200,000 dead Americans next year, but that is just me. You be you."
Steven Hudson wrote: "You're going to get a lot of s—t for it and you deserve it."
Personally, we wouldn't have chosen that particular way to commemorate our new Stingray, but that's a personal choice. Mr. Dahya put it this way, saying that the tag reflects what "people are going through. 2020 will never be forgotten."
By the way, I've been struggling myself to come up with a clever tag of my own for my Stingray's personalized plate. If you have suggestions, you're encouraged to kindly leave them below in the comments (maximum of seven letters or numbers).
While we were researching this story, we also came across Mr. Dahya's Facebook page, and it appears he has also posted photos of his garage, noting that "the Corvette nursery is coming along." Check it out yourself. We especially love the huge Chevrolet sign that takes up the whole wall on one side.

Source:
C8 Corvette Owners (And Friends) via AutoEvolution.com

Related:
[PICS] The Corvette Vanity Plates of the 2020 Lone Star Le Mans at COTA
[PICS] The Corvette Vanity Plates of the 2020 Rolex 24 at Daytona
EXCLUSIVE: Installing a Front License Plate on the 2020 Corvette