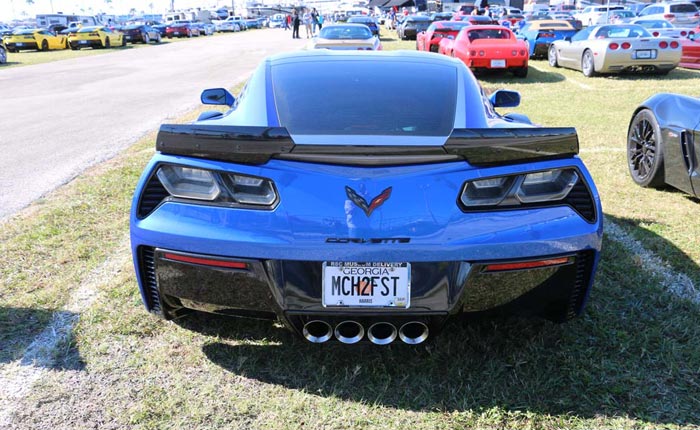 It's no secret that we love to see those creative vanity license plates on the back of Corvettes! We've been sharing some of our favorites over the years and it's gotten to the point that we know many of these cars by the plate as opposed to knowing the owner. As we walked the rows of Corvettes parked in the Corvette Corral at last month's Rolex 24 at Daytona, we recognized more than a few cars in attendance.
With this year being the first running of the C8.R Corvettes, Corvette Racing and Chevrolet went to work on the organizers for the Rolex 24 and they were able to secure a couple dozen additional corral parking spots by realigning the parking area, and although I am not certain, I believe there were around 130 Corvettes in the Corral that was located near Turn 4.
While there were plenty of Florida cars in the Corral, we also spotted plates from neighboring states and beyond. Corvette owners came from Texas, Missouri, Oklahoma, New Jersey, Connecticut, Virginia, Tennessee, the Carolinas, and Georgia to take part in the fun and camaraderie of watching their favorite racing team together.
And once again, there are some very creative owners out there who like to add some of their own personality to the car with custom vanity plates. So if you thinking up a good idea for your new 2020 Corvette, browse the images below or check out some of our previous Corvette Vanity Plates for even more time-wasting fun!
See a license plate you like? Maybe we captured your vanity plate at the Rolex 24? If so, let us know in the comments below!

Source:
Photos by Keith Cornett
Related:
[PICS] The Corvette Vanity Plates of Corvettes at Carlisle 2019
[PICS] The Corvette Vanity Plates of Bloomington Gold 2019
[PICS] Corvette Vanity Plates from the 2019 NCM Bash