Photo Credits: Jeff Wagner

Richard Sampson, a grocery store owner in Brunswick, Maine, purchased a new 1954 Corvette and enjoyed driving the two-seat convertible for about five years. However, in 1959, Mr. Sampson found out that his wife no longer enjoyed riding in it. After finding this shocking information out from his wife and being disappointed himself, he decided that he would no longer drive the Polo White roadster.
Mr. Sampson was in the process of building a new building for his grocery store chain and chose to entomb the Corvette behind a brick wall inside the store with a square porthole for viewing. He also went to the extent of putting a statement in his will that the Corvette was not to be removed until the year 2000. However, before his death in 1969, he removed that clause from his will.

A new owner purchased the store in 1982 and wanted the 1954 Corvette removed from its tomb. In 1986, Mr. Sampson's daughter took the Corvette home with her, literally. She kept it in her living room for the next 10 years in Daytona Beach, Florida.
The 1954 Entombed Corvette has had multiple owners since then and now has been donated to the National Corvette Museum where it has a permanent display complete with brick walls and a porthole to view it from. Granted, the NCM has left one wall incomplete so that visitors can view the entire Corvette.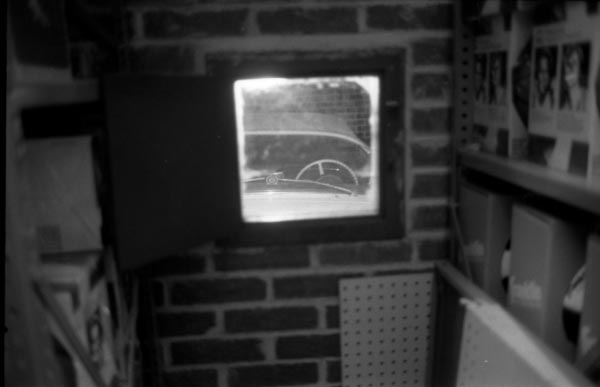 Related:
Anonymously Donated 1954 'Entombed' Corvette Joins the National Corvette Museum's Collection
Barrett-Jackson to Offer the 1954 'Entombed' Corvette at its January Auction
Entombed 1954 Corvette to be Auctioned at Mecum Kissimmee