Sometimes when you run across an old Corvette story, it really makes you wonder about your fellow man – like, what the heck were they thinking! We've covered the infamous 1954 'Entombed' Corvette" previously in 2013 when it was offered for sale and for those that have never heard how it got its nickname, it makes for a good tellin' especially around Halloween.
So the story starts back in 1954 when Richard Sampson bought a new 1954 Corvette. Sampson owned a chain of 33 grocery stores in New England and I didn't know this previously, but he also ran for Governor of Maine and actually served as a state senator from Maine.
Sampson drove his Polo White 1954 Corvette until 1959 and the car only had around 2,331 miles on the odometer. One day, Sampson stopped by a site in Brunswick where one of his new stores was under construction and he instructed the workers to enclose the car in a brick and mortar vault, with only a small window available in a stock room to view the car.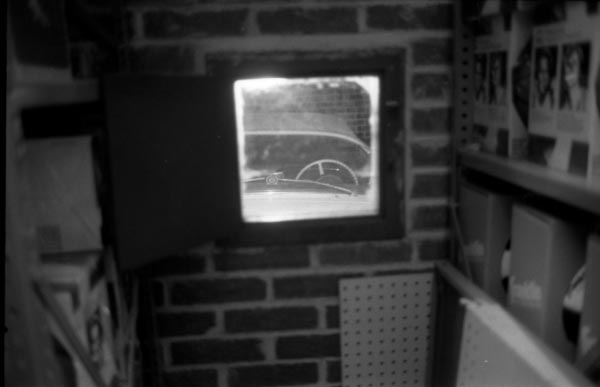 His initial plans were to leave the car 'entombed' in the vault until 2000 and even had that provision in his will. But he eventually removed those instructions prior to his death in 1969.
After a change in ownership at the property in 1986, the vault was torn down brick by brick and the 1954 Corvette, now yellowed and blistered from being stored for all those years, finally saw daylight once again. The car was in remarkable good shape as the tires still held decades-old air and the chrome, top and interior were all in good shape.
Sampson's daughter Cynthia was present at the car's rescue and she took the Corvette back to her home in Daytona Beach. Ironically, she parked the car in the living room of her house where it sat for another 10 years before finally selling it to a Corvette collector.

The collector promised to preserve the car rather than restore it and the car made its first public debut at the Bloomington Gold Special Collection in 1996 where it was displayed in Richard Sampson's honor.
Today, the 1954 Corvette still shows the signs of its entombment despite the car now having 2,335 miles – four miles more than what was on the odometer when it saw daylight 28 years after being freed from the vault.
As I mentioned, we've previously featured the story before. The 1954 'Entombed' Corvette was one of the star cars at Mecum's 2013 Kissimmee auction where it failed to find a new owner after reaching bids of $100,000.

The 1954 "Entombed" Corvette will be offered for sale at Barrett-Jackson's 2016 Scottsdale auction in January. The Corvette will be sold at no-reserve and so if you're a collector who prefers a good story to go along with their rides, this one just mught fit the bill.

Source:
Barrett-Jackson.com

Related:
Entombed 1954 Corvette to be Auctioned at Mecum Kissimmee
Corvette Pic of the Day: Buried Treasure
This Day in Corvette History: George Swanson Laid to Rest