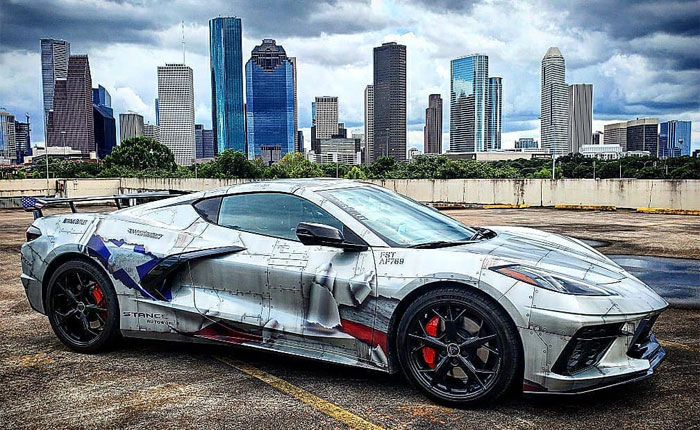 Chevy's designers on the C8 Corvette will tell you that they found much inspiration for the mid-engine's design from our military's fighter jets. The interior of the car is oriented around the driver much like that of a pilot and even the frunk's zig-zag panel design reminds us of a stealth bomber.
We love to see how owners are using creative wraps on their Corvettes, and those that are military-themed are some of our favorites. Recently, we spotted this 2020 Corvette wrapped up to resemble a fighter jet from Stanceautoworks via Instagram.
Fiasal Rahman is the owner of the 2020 Corvette Z51 Coupe. The Corvette came to him originally in Arctic White and once he got it back in March, he immediately began with the modifications. With a nitrous kit was installed, he was able to pull a 10.9-second quarter mile. Then he had a titanium exhaust system custom-built for the C8! You can take a listen to it here:

And now the 2020 Corvette has gone full fighter jet with this fantastic looking wrap. From the riveted panels to the American Flag showing through the battle scars, it's a great tribute to those who defend American from the air.
Here is what Faisal wrote when posted the pics:
I cant thank everyone enough that has been involved in this build from day one. This car has evolved so fast, in such a short time, due to the amazing sponsors that we have on board. Check out this insane transformation by @rennspecind they took my idea and brang it to life. @ticonindustries and @tt347gt killed the fab on the full titanium exhaust. @hp.motorsports_ has been a blessing with the support on the mechanical and @nitrousoutlet for supplying the parts for the dope to run threw this America muscle car veins.

So what do you think of this jet-inspired 2020 Corvette? Let us know in the comments below!

Source:
Stanceautoworks

Related:
[VIDEO] Watch this 2020 Corvette Receive a Custom Wrap and Graphics
[PIC] Somebody Thought Wrapping a C8 Corvette with 'Jeffy' Was a Good Idea
[VIDEO] 2020 Corvette Stingray is Wrapped in Satin Black with Red Accents