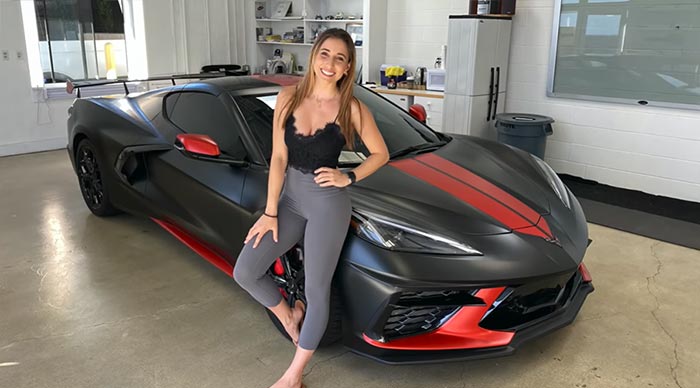 Here's an interesting wrap job on a 2020 Corvette Stingray that is owned by a YouTuber named Christina Khalil. She is not one that I follow although I am aware she has been posting Corvette content on her channel.
However, her latest video caught my eye as she had her 2020 Arctic White Stingray wrapped in what is described as Satin Black with Satin Smoldering Red racing stripes and accents and with the tinted windows it gives the car a very aggressive stance.
With the high wing and red calipers, the mid-engine Corvette screams exotic car and when she is driving the car on the streets, she makes the case that those unfamiliar with the car aren't exactly sure what she is driving.
That's a testament to the mid-engine design that has only been obtainable on high-end luxury sportscars as well as the custom wrap that gives your Corvette whatever attitude you want it to project.
From Christina Khalil via YouTube:

Source:
Christina Khalil / YouTube

Related:
[PICS] Wrapped Acid Green 2020 Corvette is the Exterior Color the C8 Needs
[PICS] Black 2020 Corvette Stingray With High Wing Now Rocking an Urban Camouflage
[VIDEO] Watch this 2020 Corvette Receive a Custom Wrap and Graphics