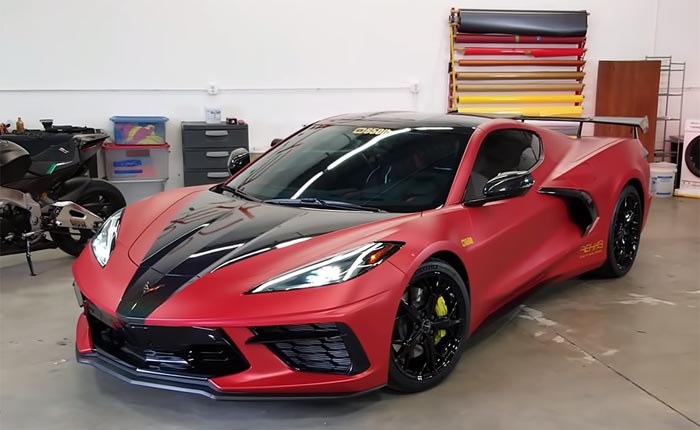 We always like to think about Corvettes as a canvas that can be customized by their owners into the rolling pieces of artwork. And while a successful customization is always in the eye of the beholder, we love to see the creativity that Corvette owners work on their rides.
We are new to the videos from this youtuber, but we do love the new matte red wrap that he put over an Arctic White 2020 Corvette Stingray. But here's the kicker…the car was ordered with the dual racing stripes, and as the car is being prepped for wrap, those stripes were removed. As they are just vinyl, they do come right off.
From 650ib via YouTube:
I drove my brand new 2020 Chevrolet C8 Corvette Stingray to Rehab Detailing for a custom exterior wrap. They did and AMAZING job using KPMF 'Iced Red Titanium' and 'Morpheus Black' custom vinyl wrap!

Source:
YouTube

Related:
[VIDEO] MagnaFlow Creates a Custom Exhaust for TJ Hunt's 2020 Corvette
[VIDEO] Street Speed 717 Adds Custom Wheels to His Black 2020 Corvette Stingray
This Custom 1954 Corvette is Ready for the Spotlight at Barrett-Jackson Scottsdale