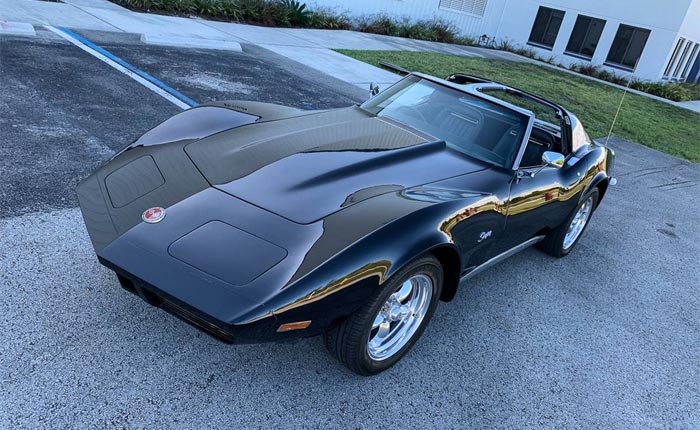 Much hoopla has been made about the C8 Corvette Stingray being equipped from the Bowling Green factory with right-hand-drive for sale in overseas markets like Europe and Australia.
But that's old news to the Miami owner of this unusual 1973 Corvette currently available on Hemmings.com for just $25,500.
We don't know all the back story on this black over black 1973 Corvette, but we are told that it's been in Japan and Australia before coming to the United States in 2016.
That wouldn't necessarily be noteworthy, if not for the fact that at some point this Stingray was changed over to right-hand-drive by one of its owners.

The '73 was, of course, the transition year between chrome bumpers all the way around and the rubber bumpers mandated by federal regulations. For some people, it represents the best of both worlds since it has a chrome bumper on the back and a rubber bumper on the front – the only year the Corvette was so offered.
This one is said to have just 15,431 miles on the odometer, though the current owner says he can't guarantee that number. Based on the photos, the overseas history, and the overall condition of this car, we wouldn't be surprised if that mileage is accurate, though the current condition of the car could just be a reflection of a restoration said to have occurred at some point.
Speaking of reflections, this '73's black paint job is like a mirror, at least in the photos. The seller does point out a minor imperfection in one of the photos, though we can't tell exactly where it's located.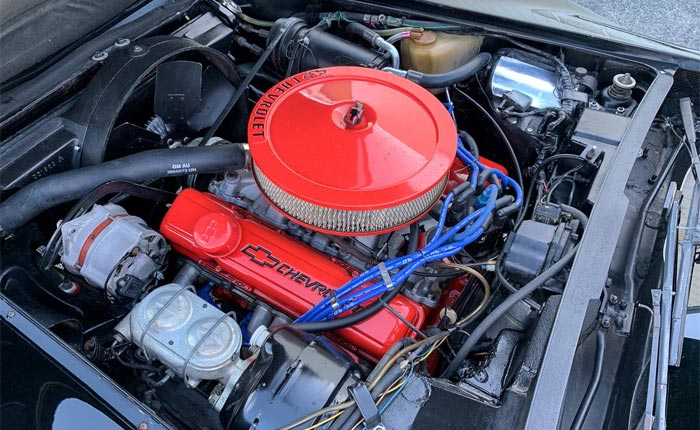 One thing we do know is that the 350 engine has been built with performance parts, including an Edelbrock intake, headers, exhaust system, dual carburetor, water pump, and more.
It also includes air conditioning, four-wheel disc brakes, power brakes / steering, T-tops, automatic transmission, and American Racing billet wheels. The interior has been redone with distinctive yellow stitching, and the seller points out that it's "very comfortable and pleasant to be in."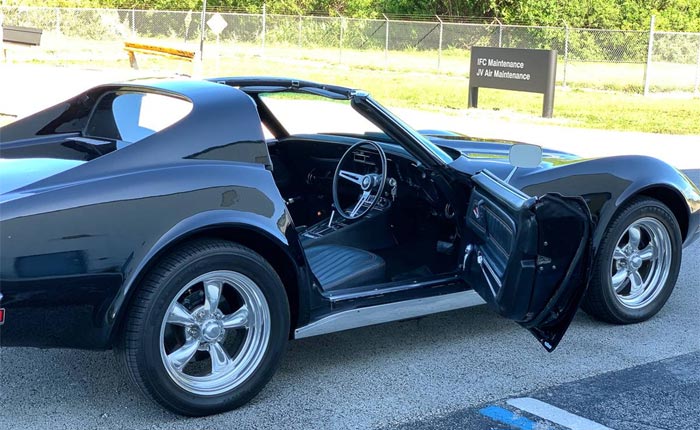 This car may not be one of a kind, but it's definitely not every day you see an RHD '73! As the seller notes: "Ready to take to your local car shows and for weekend fun that will attract attention wherever you take it to. It's definitely a unique build and rare to find one that was made right-hand-drive! At the car shows people go crazy seeing that."
And, if the new owner ever tires of taking the car to shows, he might think about a career change and become a postal carrier! We'd love for our mail to be delivered in this car.

Source:
hemmings.com

Related:
An Open Letter to General Motors from an Australian Corvette Enthusiast
[PIC] First Look at the 2020 Corvette Stingray's Right Hand Drive Interior
Australian DMV: Racing Stripes on your Classic Corvette? No Registration for You!