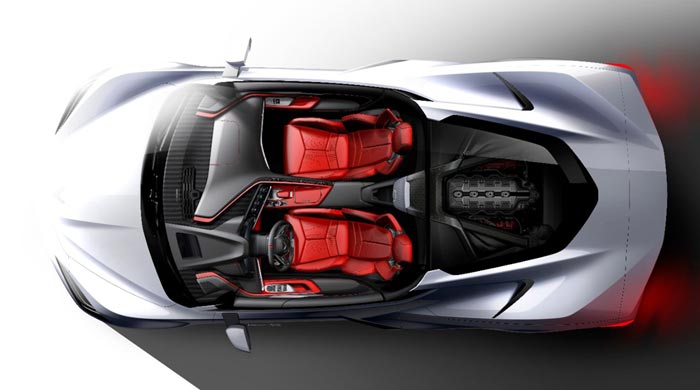 Photo Credit: Chevrolet

Tradition dictates that the next model to be introduced for the C8 generation will be the high performance Z06 version and based on spy photos and leaked documents, we have a pretty good feeling that we'll see the next level model in 2022.
Already there is a lot we know about the car based on the fact that Corvette Racing is essentially doing the development testing for a new flat-plane crank V8 engine as the C8.R requires homologation. A leaked document shared by Don Sherman and Hagerty shows the engine will be called the LT6 and its naturally-aspirated 5.5L 32-valve dual overhead cam V8 with a redline as high as 9,000 RPMs would be capable of producing 650-hp and 600 lb-ft of torque.
Our friends at Muscle Car and Trucks have some new info on the upcoming Z06 they are sharing from their "network of well-placed sources" and it's all the things that a potential Z06 owner wants to hear about.
The first piece of news centers around wheel size as well as the high performance tires that Michelin is developing for the new Corvette. The Corvette Z06 will go with a staggered set-up with 20″ and 21″s and that an optional carbon fiber wheel will be offered. If you remember, a set of carbon fiber wheels reportedly sized for the C8 Z06 were found on eBay earlier this year.

The wheels will be wrapped in the latest Michelin Pilot Sport Cup 2 R tires, considered to be the road-legal versions of its racing tires. The Z06 tires will be sized 275/30R20 up front and 345/25/R21 in the rear. For an idea how that compares to the C8 Stingray, they are 30 millimeters and 40 millimeters wider front and back.
The second rumor has to do with the aerodynamics of the Corvette Z06. Although there have been reports of a large fixed wing coming to the C8 Z06, we have yet to see one on any of the prototypes that have been spied. Instead, Muscle Cars and Trucks says the new sportscar will instead utilize active aerodynamics.

Over the course of the last few years, the Corvette team has been issued a number of patents for active aerodynamics and it would be no surprise to see some of these technologies utilized on the Z06. They would include front spliters and rear spoilers that move up or down based on acceleration for increasing or reducing drag while active side rockers and side vents may be integrated for better handling on curves.
All these rumors seem to be centered around the "Z07" performance package that has been an important part of the Z06 legacy over the years. And while all this technology won't come cheap, you can bet it will take the C8 Corvette to new heights of performance.

Source:
musclecarsandtrucks.com

Related:
Hagerty Outlines the Entire Future of the C8 Model Lineup from Leaked Documents
Are These Carbon Fiber C8 Corvette Wheels Destined for the Z06? If So, Why Are They on eBay?
GM Receives a New Patent for Advanced Active Aerodynamics