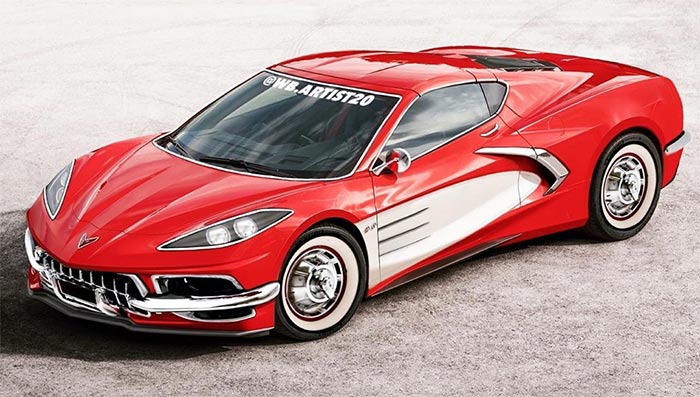 With the longevity of the Corvette model spanning nearly 70 years, there will always be those who love to project the classic design queues of the first Corvettes onto the latest model. But things are a bit different this time around as for the first time, the Corvette has gone mid-engine. Will a 1958 makeover on a C8 Corvette work? We check out this rendering from digital artist wb.artist20 to see what such a mash-up might look like.
The 1958 Corvette featured several changes from the 1957 model which includes the first use of the dual headlights, a non-functional louvered hood, and copious amounts of chrome including the one-year-only twin chrome trunk spears. The '58 also retains the trademark chrome grill with teeth and the two-tone side coves.
For this retro design to work, the chrome grill and the side coves got to fit in their respective places and for the most part designer Oscar V. does a pretty good job of working those historic elements onto the C8. Even the whitewall tires seem to be at home with the makeover, but where I think it falls apart is trying to wrap the mid-engine with the 1958's trademark chrome bumpers as well as the trim around the windows and headlights. I like how the rear bumpers wrap around the corners, but the front is just overkill…which is one of the original criticisms of the '58 when it first appeared.
But the best thing about the project is that the more you look, the more there is to see. The side mirrors are a throwback to the side-mounted versions on the C1s. The wheels feature the same platter-design hubcaps and even chrome door handles were carried over to the mid-engine.
From wb.artist20 via Instagram:
wb.artist20 👀 By popular requests, here's my attempt at "retrofitting" a C8 Corvette with 1958 C1 elements. I debated on what year model to use and @_frankieklassen01 suggested white walls so it intrigued me not to mention the white cove is definitely super identifiable. Let me know what you think. Btw I don't care about what the chrome does to weight and aerodynamics! It looks awesome to me! 😁
Overall I think this was a fun project and we are looking forward to seeing what the reaction will be from the Corvette purists among us.

Source:
wb.artist20 / Instagram

Related:
[PICS] C8 Corvette Is Gifted with a Nose Swap From a Chevy Blazer
[PIC] A Retro Corvette Stingray Rendered with a Touch of Camaro
Retired GM Designer Creates Future Concepts Based on Retro Classics