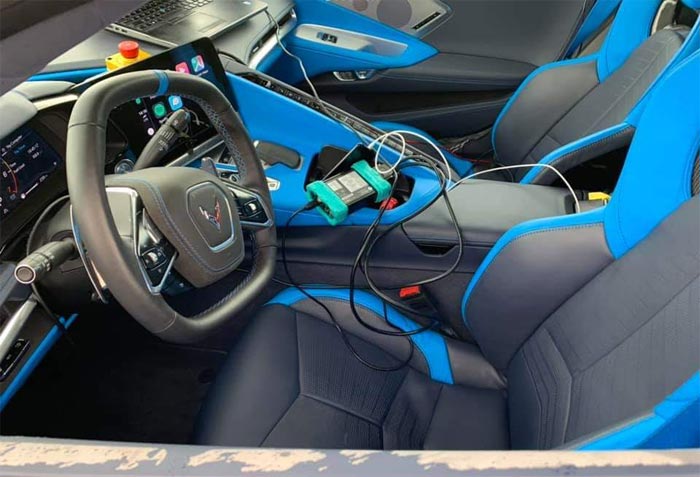 Fans of the Tension Blue interior that was exclusively featured on the 2017 Corvette Grand Sport Collector Edition are happy to see that Chevrolet has included the color for the C8 Corvette.
For the 2020 Corvette, the bright Tension Blue is paired with the darker Twilight Blue to create a beautiful two-tone design that will only be offered for the Corvettes with the 3LT interior. Additionally, only seven exterior colors are offered if you want the Tension/Twilight dipped interior: White, Ceramic Gray, Silver, Black, Shadow Gray, Rapid Blue and Elkhart Lake Blue.
Late last night we posted photos of this "Fever of Stingrays" (which is how you describe a group of Stingrays in the wild) and one of the cars spotted is a base non-Z51 Shadow Gray with the Tension/Twilight interior.
This is a preproduction prototype and it's pretty beat up (see the door panel) from the original black interior camo that helped to hide the interior prior to the reveal. Unfortunately, this car will be crushed when testing is completed, but at least it serves its purpose in testing, as well as showing us what the two-tone blue interior looks like.

When we first heard that Chevy was pairing the Tension Blue with Twilight we were pretty excited as the Twilight Blue has always been one of our favorites since it first appeared on the 2013 427 Convertibles. In the C8 configuration, the Tension Blue is most prominent on the center console, seat bolsters and the bottom of the dash. A small swatch of the Tension Blue appears at the 12 o'clock position on the steering wheels and the Stingray is also equipped with Tension Blue seat belts which helps to tie it all together.
Here's a few more examples of the Tension/Twilight Blue Dipped Interior from the Corvette Configurator.

Do you see a Tension/Twilight Blue interior in your future C8 Corvette? Let us know in the comments below and tell us what exterior color you will pair the two-tone interior with.

Source:
MidEngineCorvetteForum.com

Related:
[SPIED] Stingray Fever: Seven 2020 Corvette Stingrays Testing Out West
2020 Corvette Stingray Configurator and Order Guide Is Now Up
Corvette Museum Delivers First 2017 Corvette Grand Sport Collector Edition