Talk about being in the right place at the right time!
Tom Voelk was out in San Diego for a ride and drive with the third generation Kia Soul when suddenly a group of five C8 Corvette prototypes rolls up. As we showed in another video last night, the C8 prototypes were accompanied by two C7 Corvettes and a Porsche 911.
Also mentioned last night was that we caught Corvette Vehicle Performance Manager Alex MacDonald with the group of engineers and now with this video, we are pretty sure that Corvette product manager Harlan Charles was also along for the ride. Harlan is wearing a gray hooded sweatshirt and can be seen exiting the Red C7 at 0.22 seconds.

The Corvettes and engineers appear to mingle at the stop for a few minutes and Tom is able to get some high-quality video of the cars as they are stopping in the parking lot. As the group hits the road for a drive through the mountains, the Kia Soul gets out in front of the C8 Corvettes and Tom says he jumped into the backseat to get these lovely views of the prototypes driving along in the rain and snow-lined mountain roads.

At the same stop, it appears that auto blogger Lauren Fix from CarCoachReport captured additional photos and more video of the C8s including exhaust note from what is believed to be an upgraded LT1 making around 490-500 hp. The video was shared by AutoSpies:

Again, these are very positive developments and you have to wonder if the Corvette Team had some advance knowledge of Kia's route to ensure a little extra coverage of the C8s would be shared to a wider audience.
Here are some stills I grabbed from the Driven Car Reviews video: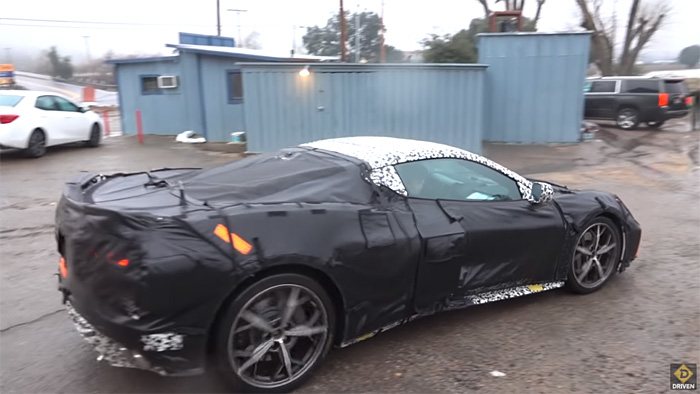 Source:
Driven Car Reviews and AutoSpies

Related:
[VIDEO] Corvette Ride Engineer Alex MacDonald Spotted With Group of Five C8 Corvettes
[SPIED] Another Sighting of a C8 Mid-Engine Corvette Prototype in San Diego
[SPIED] California Dreaming as Two C8 Mid-Engine Corvette Prototypes are Spotted in San Diego