Another year is almost in the books so we thought we would take a look back to see which articles got the most traffic on CorvetteBlogger in 2018. These are ranked based on your clicks so in essence, this list of Corvette stories was voted on by you!
Although the C8 Mid-Engine Corvette is not expected to hit dealers until sometime later in 2019, the 2020 Corvette dominated our news coverage this year with seven of the top 10 stories. And did we mention renders? If you wonder why we post so many renders of the C8 Corvette, it's because they generate a lot of interest from our readers.
Here are our top 10 Corvette news and features from 2018:
#10: [VIDEO] 2019 Corvette ZR1 Catches Major Air On the Track
Corvette Forum member "Poor-sha" has been tracking his 2019 Sebring Orange Corvette ZR1 since he took delivery earlier in the year and he has shared many of his track experiences behind the wheel of the 755-hp monster. On this day back in August, "Poor-sha" was at Summit Point Shenandoah and got all four wheels off the ground as he crested a rise on the track's backstretch.

#9: [PICS] Latest C8 Mid-Engine Corvette Renderings from FVS and the C8 Mid-Engine Corvette Forum
Following the spy pics of the Corvette C8.R testing at Road America, FVS – the resident artist of the MidEngineCorvetteForum.com – created this side rendering of a C8 prototype and painted it in multiple colors.

#8: The Top 50 Corvette Dealers of 2017 (through December 31st)
One of our most popular posts each year is the list to the Top Corvette Dealers based on sales. Chevrolet sold 25,079 Corvettes in the US in 2017 and this list charts the top 50 dealers during the calendar year.

#7: Did an Insider Just Reveal GM's Bold Plan for the C8 Corvette Manta Ray?
Over the last year, we've seen several "insiders" claim that they have details on the new C8 Corvette. This one by a new member of the Corvette Forum named "unlimtedPower" turned a lot of heads with his post earlier in December. Among some of his claims is that the new 2020 Corvette will be called the Manta Ray and the first version will come with an upgraded LT1 V8 rated at 520 hp.

#6: [PICS] Corvette C8.R Spy Photos Inspire New Renderings of the Mid-Engine Corvette
SportsCar365.com broke the internet back on August 9th after spy photos and audio of the C8.R's engine revealed the new racecar being tested at Road America. Several days later, FVS and MidEngineCorvetteForum.com rendered a street version of the C8 based on the spy photos of the C8.R.

#5: Decoding a Corvette's V8 Casting Numbers and Engine Stamps

I wrote this blog back in 2007 and it continues to be one of the most popular "legacy" posts on CorvetteBlogger. Somebody linked to it again which brought in a slew of new visitors. Using my 1966's 327/300 V8, I documented where to find the major "numbers" to document the originality of a Corvette's small block engine. I wish I had 10 more articles just like it!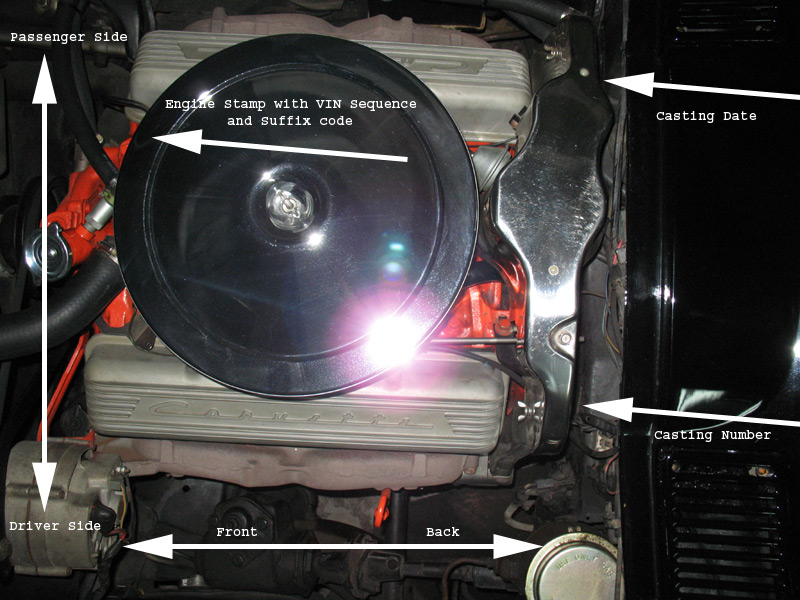 #4: [PICS] Car and Driver Renders the Mid-Engine C8 Corvette for the May 2018 Issue
Car and Driver rendered the mid-engine C8 Corvette for the cover of their May 2018 Issue which features the article "25 Cars Worth Waiting For". The article's author Daniel Pund speculates on the various engines and equipment that the magazine thinks will be available in the C8 Corvette.

#3: [PICS] New Front-End C8 Corvette Render from FVS and the Mid Engine Corvette Forum
In early September, the Corvette world was shocked when photos and then videos of the C8 Corvettes were spied testing at the world famous Nurburgring in Germany without the heavy black camouflage and cladding that they were normally covered in. Spy photographers were able to get up close to the car at a fueling station and those details were rendered into this new front photo by FVS and the MidEngineCorvetteForum.com.

#2: [PIC] First C8 Mid-Engine Corvette Interior Render by FVS
Another insider on the Corvette Forum was a guy named ZERV02 who boasted that he had seen the interior of the C8 and drew a diagram of the dash layout. FVS and the MidEngineCorvetteForum.com took ZERV02's notes and created the internet's first C8 interior rendering. As first renders go, FVS described it as a "hot mess" and he has since put out several more interiors that have been refined based on eyewitness accounts.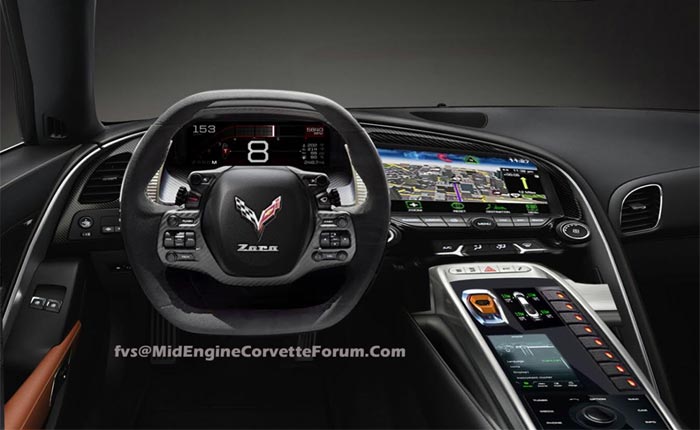 #1: Chevrolet Teases the Mid-Engine C8 Corvette at its Dealer Meetings in Las Vegas
Our friend Nate Chandler who was with Van Bortel Chevrolet in upstate New York was in Las Vegas attending the Chevrolet dealers meeting back in April and spilled the beans after the automaker provided a glimpse of the future Corvette:
"Caught a glimpse of the next-gen Corvette at Chevy's Find New Roads dealer conference. It is coming, it looks very mid-engined! The teaser was part of the General Session where phones and recording devices were not permitted. I can't wait to find out more!"

Significant Corvette Stories that Deserve Mention
There were also some big Corvettes stories that generated a lot of clicks in 2018, but not enough to break into our Top 10 list. Here are some of those significant stories in no particular order:

But Wait There's More
And finally, one last item before we close it all down! My book on Corvette Special Editions launched on October 15 and it was the top automotive book on Amazon for the next five days! You can order signed copies of the book at Corvette Special Editions.

So there you have it! CorvetteBloggers's top Corvette blog posts from 2018 and our list of significant articles and events that shaped the year. We've been covering the Chevrolet Corvette since 2005 and we'll be back and ready to go for even bigger news in 2019! To stay up-to-date with all the news, Subscribe Today and get our daily Corvette news recaps emailed directly to your inbox!

Related:
C8 Corvette News Archives
2019 Corvette ZR1 News Archives
Subscribe To CorvetteBlogger's Daily News Recaps