Photo Credit: Walter Esquivel / Sloppy Mechanics FB

As the C8 Corvette is still in its development stages, mechanical issues will arise. And that's a good thing as those issues are documented, chased down and then fixed before the first customer ever takes delivery. That's why we see engineers putting all these miles on them on public streets as they subject the cars to real-life, everyday situations.
It's never a pretty picture to see a broken-down Corvette, but one C8 Corvette appeared to be having some mechanical issues after it was spotted while parked at a RaceTrac gas station. The pictures were originally uploaded to a closed facebook group called "Sloppy Mechanics" by Walter Esquivel and we first saw them on the Corvette Forum.
The pics show a covered C8 Corvette at a gas pump. The photographer rolls up on them and snaps another photo as two of the engineers have their heads under the camouflage hood as they try to diagnose the mechanical issue.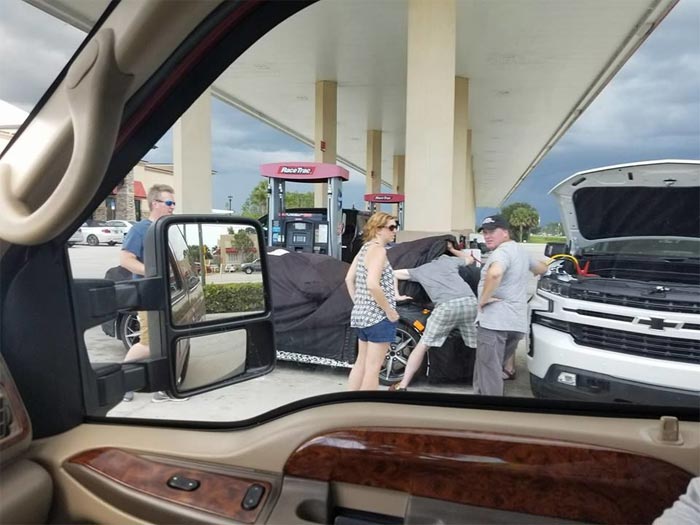 From these couple of photos, we have learned that the battery will most likely be moved to the front of the car. You can see the jumper cables on the truck, and relocating the battery will help shift some of the weight distribution back to the front of the car.
The other unique design feature is that it appears the C8 Corvette's front hood will be hinged at the firewall. Think of it this way. For 65 years, the Corvette's hood has always opened unconventionally. And now that it opens conventionally, there is no engine as the party moves to the back.
Over at the forum, a user posted one of the previously released CAD drawings and there appears to be an area in the front center that could be the battery holder. Another user posted this comparison photo showing the battery compartment in a competitor's mid-engine sports car:
Someone said these pics may be from Florida as forum member claims to have seen one in the sunshine state recently. Based on the palm trees, threatening weather and that four-door sedan with the turquoise wheels in the first photo, we would agree with that assessment.
Finally, one last photo would show a tow truck hauling the Corvette away while the group of engineers followed behind it in a 2019 Silverado. I wonder…where does Chevy take their broken-down prototypes to get fixed?

Source:
Corvette Forum
Photo Credits: Walter Esquivel / Sloppy Mechanics
Related:
[SPIED] Is This the Mid-Engine C8 Corvette's Front Axle Lift System in Action?
[VIDEO] The Mid-Engine C8 Corvette's Exhaust Sounds and Lightning Quick Shifts
[VIDEO] You Can Finally Hear the Exhaust Note of the Mid-Engine C8 Corvette