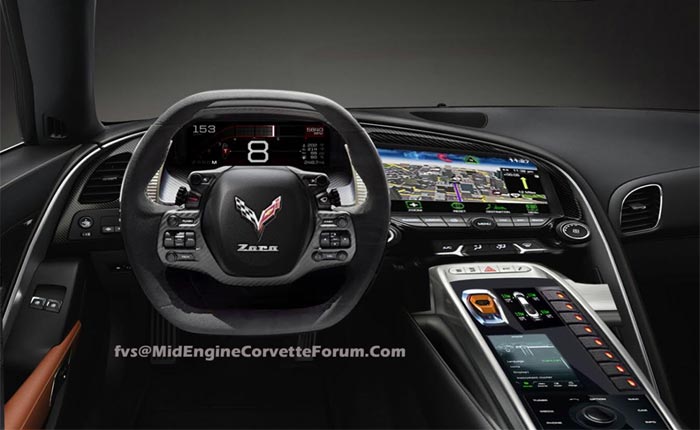 Let's start the conversation on the 2020 Mid-Engine Corvette Zora's interior.
Most of the discussions on the C8 Corvette has been mostly confined to how it looks and how it will perform. But how will the C8's cockpit feel as well as the driver ergonomics compare with the C7 Corvette which was arguably one of the best interiors ever put into a Chevrolet?
Back in August, a member of the Corvette Forum named ZERV02 claimed to have seen the interior of the C8 Mid-Engine Corvette and posted a sketch outlining what he saw. The post and sketch are full of speculation but we understand that there was an "Oh S#!T" moment when members of the Corvette team learned about it.
Utilizing that sketch as well as further posts from ZERV02, the resident artist named FVS (firstvettesoon) at the MidEngineCorvetteForum.com came up with an interior render based on that info.
The render is a "hot-mess" as first renders go and the goal is that it will bring out more eyewitnesses who can help refine the design. FVS also likes to use the current C7 layout as placeholders which he calls "a do-me-til we know something more" for the design info he doesn't have. So that explains the C7s center infotainment center and the wrap around feel of the dash cluster.
Here's a quick list of what he was working with to visualize the C8 interior based on ZERV02:
Carbon copy of the Ford GT wheel
Lamborghini Hurican-style start switch in a different color
Daimler touch pad console
Small switches/buttons in line on right side of the console
Modernized Corvette logo with Zora reference
Drive selector knob
Wrapped center screen

Click on the image below to fully open it: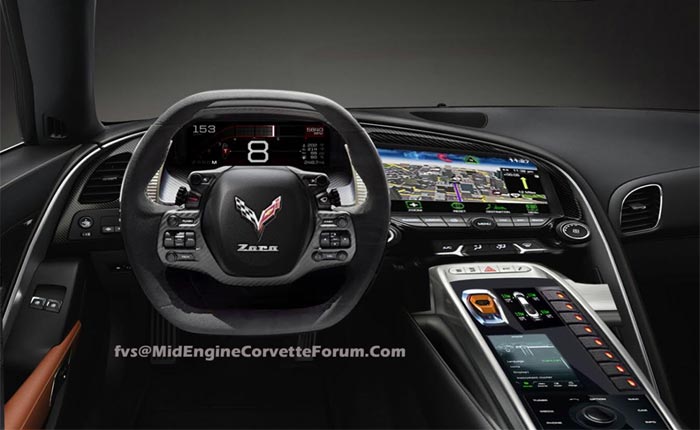 And here it is showing a HUD:

Here is the original sketch from ZERV02's August posting on the Corvette Forum as well as some of his supporting screen shots of similar designs in other vehicles:

So while this render is far from refined, the idea is to start the conversation into what the 2020 Mid-Engine Corvette Zora might offer for the interior. And since we know what a game-changer the interior was for the C7, we are expecting great things from Corvette's interior designers.
So what do think of this first pass at the C8 Corvette's interior? Let us know in the comments below. If want to get involved in the conversation, head over to the MidEngineCorvetteForum.com where you can talk to FVS and other enthusiasts about the next-generation Corvette!

Source:
FVS @ MidEngineCorvetteForum.com

Related:
[PICS] C8 Mid-Engine Corvette ZORA Rendered With Front License Plate
[PIC] FVS Renders the C8 Mid-Engine Corvette with the 2019 Corvette ZR1
[PICS] New Front-End C8 Corvette Render from FVS and the Mid Engine Corvette Forum