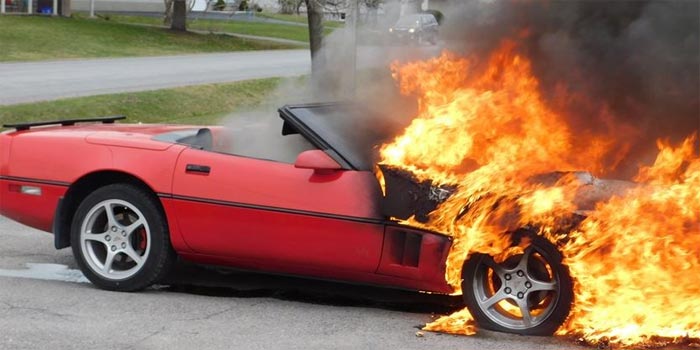 While the bad news is this red C4 Corvette convertible was a total loss, the good news is the owner's nearby home was saved.
The Corvette went up in flames Wednesday afternoon in Quinte West in the Canadian province of Ontario.
But it could have been worse, though, with some quick thinking by the owner credited by authorities with saving his home from a similar fate.
"The owner had started the car while it was in the garage and noticed smoke coming from under the hood," Quinte West fire Chief John Whelan said.
He took speedy action, however, and backed his Corvette onto the driveway and call 911.
Crews from Quinte West Station 3 quickly answered the call at 4 p.m. and while the Corvette will definltely need a lot of work to get back to status quo, they were at least able to save the man's house from erupting into flames, though some of the siding did melt.
"The house could have caught fire," the chief said. "We're lucky the guys got there quick and it wasn't windy. And good thing he backed it out really quick; that was smart on his part, or else the house would have caught fire."
The fire chief said the cause of the fire is hard to determine.
"There's too much damage, I think it was a mechanical issue, but I can't pinpoint that because it was fully engulfed, everything was burned up, so it's pretty hard to investigate," he said.

Source:
insidebelleville.com

Related:
[ACCIDENT] C3 Corvette Bursts Into Flames After Collision with Telephone Pole
[ACCIDENT] 1986 Corvette Goes Up in Flames in High School Parking Lot
Firefighters Extinguish the Flames after a C4 Corvette Explodes in Iowa