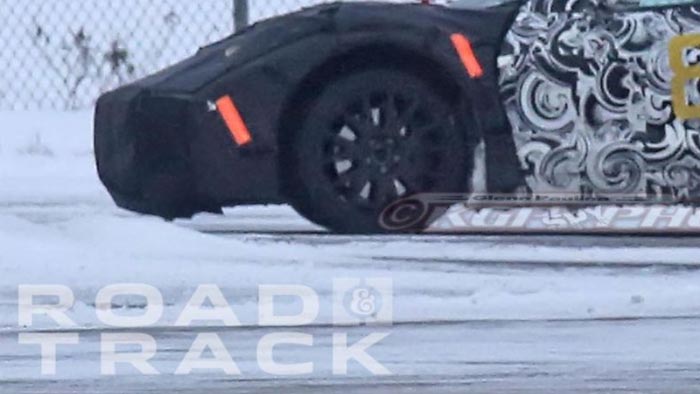 It's always a treat to wake up with new Corvette spy photos to look at. Road and Track just published a photo gallery with 31 new spy photos of the mid engine C8 Corvette as it's undergoing cold weather testing.
I'm pretty sure that this is the best look yet at the next generation Corvette. Check out all the latest pics at RoadandTrack.com.
Also included for your viewing pleasure is the the C7 Corvette ZR1 prototype. The C7 prototypes are configured with both the larger "big wing" spoiler as well as the smaller profile wing that was spotted last year on the Convertible models.

The profile photo of the mid engine Corvette is exactly what most mid engines look like. A smaller profile for the front with dramatic arches over the front wheels. It looks like there are two air intakes on each corner of the front nose.
Just past the doors, there is most likely a larger vent where the current C7 models' rear brake inlets are found. You can see in one of the photos (no. 5) that snow has accumulated between the body of the car and the fabric camouflage hiding the rear. The rear deck is very flat and it appears there are also vents on each side of the rear area just past the B-pillars.

As far as the rear goes, the twin-exhaust tips are pushed to the corners of the car with the bottom of the rear fascia cut around them. Straddling the bottom of the rear fascia is another grill with what might be a radiator behind it.
For years, Zora Arkus-Duntov spoke about the benefits of the rear-engine design and now this latest sighting of the C8 mid engine Corvette has raised those expectations. The Corvette Team will have their opportunity to prove the additional gains in performance and handling from the mid-engine Corvette was worth the wait. But as I look at this car now, the question remains on whether such a design can compete with the 64 year history of the front engine Corvettes when it comes to customers plunking down their cash.

Source:
RoadandTrack.com

Related:
Corvette Body Spotted at GM Battery Lab Powers Rumors of an Electric 'Vette
Mid Engine C8 Corvette to Come with Dual Clutch Auto Transmission Only
[SPIED] Spy Photos Capture Side View of the Mid Engine 2019 C8 Corvette