Would you buy a hybrid or electric Corvette?
While the very idea might sound sacrilegious to some gas-loving enthusiasts, to others, it sounds like a great way to increase the performance of our favorite car, while continuing to remain environmentally friendly.
A few months ago, it was reported that General Motors had ">trademarked the E-ray name, leading some to believe that Chevy is indeed working on an electric or hybrid Stingray.
Now we've got word from CarAdvice that they just saw a C7 frame during a tour of GM's 85,000-square-foot battery lab in Warren, Michigan – the same lab where GM evaluates battery performance and integrates them inside prototype vehicles.
We've always felt that a hybrid Corvette would be a great way to take the car to the next level.
Could this empty C7 frame be the beginning of a mid-engine C8 that is totally electric or uses a small electric motor to kick in extra acceleration horsepower to a gasoline-powered engine – sort of an electrified version of a supercharger?
To support this theory, CarAdvice says it saw GM engineers working on Tesla-esque cylindrical battery cells that might fit in the tight confines of a car like the Stingray.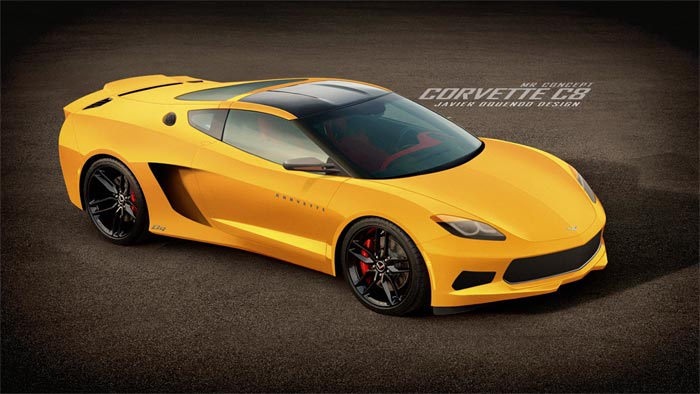 CarAdvice believes it would be too complex to rework the C7 into a totally electric car and says "it's more likely GM is working on a hybridized version with full on electrification coming with the C8."
They also say it's possible GM could be working on an eAssist style Corvette as proof of concept, or even for select markets the way 1500-series trucks are being sold on the West Coast with a small electric motor adding another 13 horses and 44 lb-ft of torque during acceleration, along with regenerative braking and Stop/Start.
CarAdvice says the 15 kW eAssist system was always designed to be used for modular applications, cutting the cost to adapt it to a vehicle like the Corvette. They also surmise that a new software program could be formulated to allow the front wheels to vector electric torque during high load events while offering all-wheel-traction during all-out acceleration.
Then again all this might just be nothing. Don't you just know GM is loving all this speculation? Wouldn't it be great to be a fly on the wall and see just what Tadge and his talented crew of engineers have up their sleeves?
Personally, while we are eagerly awaiting Chevy's plans for the C7 ZR1 and the C8 Corvette, at the same time we are glad the company has been delaying the unveiling of the high-powered ZR1.
Photo Credit: BUZZART

Keep us in suspense, GM! We've always thought the debut of the C7 in January 2013 when you couldn't buy one until later that fall was done too early – why not make us drool and speculate right up to the very day the car was officially for sale? Could you imagine the fever pitch on the Internet if no one had known for sure what the C7 was going to look like till sales officially began?

Source:
CarAdvice.com.au

Related:
[VIDEO] Genovation GXE Breaks 205 MPH with Electric Corvette Z06
Car and Driver's Don Sherman Weighs in on Corvette E-Ray Trademark
Speculation of an Electric Corvette Grows After GM Trademarks 'Corvette E-Ray'