It's NCM Bash week which means we get to hear all of the down and dirty details of the next model of Corvettes first hand from Corvette team members. We already knew that we'd be getting four new exterior colors and that was confirmed earlier this week with the release of the 2017 Corvette Ordering Guide.
Two of the colors are returning old favorites from the C4 era and the other new are completely new to Corvette.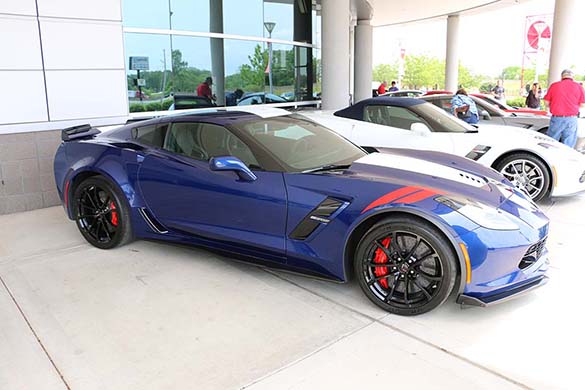 Once again we say hello to Admiral Blue and Black Rose Metallic. Admiral Blue debuted in 1994 and ran through 1996. Earlier this month, GM confirmed that Admiral Blue will be available for a short time late in the 2016 model run. It's best known for being the hue on all 1,000 1996 Grand Sports. Black Rose Metallic first debuted on the
1992 Corvette and ran through 1994. In that run, just over 4,000 Corvettes were painted this color.

New Watkins Glen Gray Metallic replaces Shark Gray and will adorn the exterior off all 1,000 Collector Edition Grand Sports.
The final new color is Sterling Blue. We hadn't heard much about this silverish blue until this week. If you follow us on Facebook, though, we posted a sneak peek Wednesday night courtesy of our buddy Mike Furman and then a full spread on Thursday.
So that's a quick look at the 4 new Corvette colors for 2017. All are on display this week at the Michelin NCM Bash. If this blogger had to pick a favorite it would probably be Admiral Blue just by a lug nut over Black Rose. It's a close race.
We've found that our color polls are pretty popular so let us know your favorite new-for-2017 color in our poll below.
Loading ...

Related:
[PICS] New Sterling Blue Exterior Color for 2017 Debuts at the NCM Bash
[PICS] 2017 Corvette Grand Sport Convertible in Black Rose Metallic
[PICS] The Corvette Assembly Plant Manager's 2017 Corvette Grand Sport
2017 Corvette Order Guide Details New Corvette Options and Colors
[PICS] Black Rose Metallic Returns to the 2017 Corvette