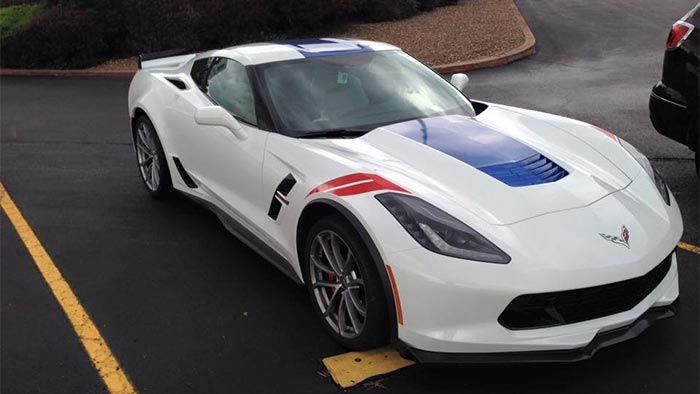 Although we haven't confirmed it, we were told this Arctic White 2017 Corvette Grand Sport with the Heritage Package was parked earlier in in the spot reserved for Kai Spande, the manager of the Bowling Green Assembly Plant.
It's one of the perks of managing the world's only Corvette assembly plant and well, as Mel Brooks might say, it's good to be the plant manager.
Mike Furman of Criswell Chevrolet is in Bowling Green for the National Corvette Museum's Bash and posted these photos on his Corvette Furman Facebook page.
Having returned to the USA after a stint in Germany, we wonder if it's not a coincidence that Spande's Arctic White Corvette Grand Sport has a patriotic theme with the Blue stripe and grill and the Torch Red hash marks.
These wheels are also new to us and we are looking forward to the Bash where we'll learn more about them.

It's the second year in a row that Chevy is showing off their halo car with the Red, White and Blue theme and frankly, we like it!
Update
We have confirmed that this is not the personal test car of Kai Spande, the Bowling Green Assembly Plant Manager. Harlan Charles says it is special though as its the very first 2017 with VIN 001.

Source:
Mike Furman / Facebook

Related:
The Michelin NCM Bash Starts Tomorrow!
[PICS] Black Rose Metallic Returns to the 2017 Corvette
2017 Corvette Order Guide Details New Corvette Options and Colors