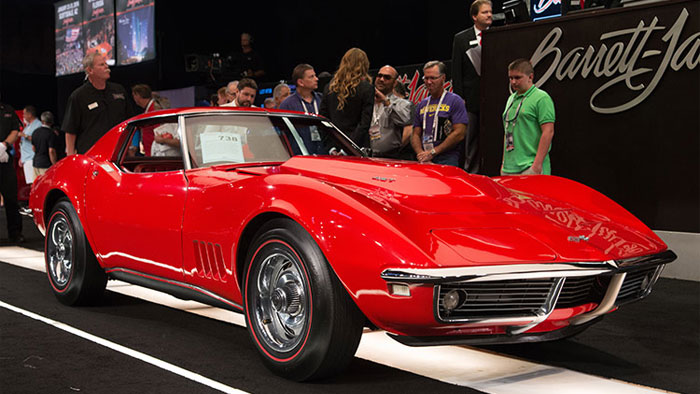 On Saturday evening at Barrett-Jackson's Las Vegas auction, this red/red 1968 L88 Corvette found a new home for the low, low price of $330,000. That's somewhat surprising given the fact that other 1968 L88 Corvettes have sold for quite a bit more at recent sales.
So what may have caused this prized performance sports car to stumble at BJLV?
We think the biggest issue with this Corvette was the originality of the car. Collectors are stilling willing to pay top dollar these days for cars that are correct and documented. This L88 appears to have had a couple of issues that probably turned away most serious buyers.
While this 1968 L88 Corvette was advertised as a two-owner car with only 24,760 miles on the odometer, Barrett-Jackson's resident Corvette expert Ray Sinor commented about the engine not being original to the car:
"It is an exception to the rule to find an L88 with its original engine block," Sinor said. "These cars were built for racing, and overstressed parts were a fact of life. When an engine broke, it was replaced."
No matter how closely the replacement engine and components match the original or how "period-correct" they appear, it's still not the original engine and therefore, the serious L88 collector will pass despite the discount.
Most serious collectors will also shy away from a car with a color change, even if the new color is now considered an improvement over the original. This Red/Red Corvette was originally a White/Red Corvette. The repaint was professionally done in lacquer and everyone loves a red Corvette, but it's not original.
This Corvette L88 still has a lot of potential despite being snubbed at Barrett-Jackson and the new owner should take solice that they now own one of 80 1968 L88 Corvettes produced, documented by the still-attached tank sticker, and had for an almost unheard price of $330,000.

Source:
Barrett-Jackson

Related:
Two-Owner 1968 L88 Corvette Headed to Barrett-Jackson Las Vegas
[VIDEO] The L88 Corvette Racers Arrive at Amelia Island
[DVR ALERT] Velocity TV's AmeriCarna Looks at Corvette Racing's DNA From L88 to C7.R