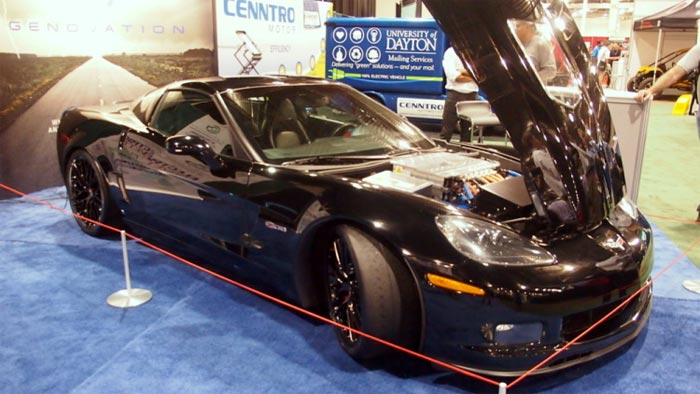 Photo Credit:
Sebastian Blanco / AOL

We've wondered if Chevrolet would ever add an electric motor to a Corvette to increase horsepower.
Well, someone already beat them to the punch. At the Battery Show 2015 in Novi, Mich., the Genovation GXE all-electric vehicle based on a C6 Corvette Z06 made its public debut.
This is no Volt, either.
The Genovation Corvette EV has a top speed of 200 mph, more than the C7 Z06, and can climb from 0-60 in three seconds, about the same as the current Z06.
Other pertinent stats: 700-plus horsepower and more than 600 lb-ft of torque.
And if you're proud to be an American, take pride in the fact that the powertrain was designed and built in the U.S.
Genovation CEO Andrew Saul told AutoblogGreen that his company is producing "a real driver's car," with a near 50/50 weight distribution.
He says the car was designed to do two hard laps at Nurburgring. With its 44-kWh battery pack similar to a Tesla's, the Genovation can get about 40 to 50 miles of fast, on-road driving or 150 miles on the New York City test cycle which "simulates low speed urban driving with frequent stops," according to DieselNet.
Apparently those numbers are just in a computer, though, because Saul says it will take three or four more weeks to complete the car, followed by a few weeks of road tests to find out what the Genovation will do in the quarter-mile as well as its true top speed.
As you might expect for being at the front of the product cycle, you'll pay dearly for the chance to own a Genovation. It'll list for $330,000 ($290,000 if you furnish the Z06). The company expects a production run of less than 200 units, with initial numbers of just five or 10 a year.
Photo Credit:
Sebastian Blanco / AOL

Source:
autoblog.com

Related:
Genovation to Debut an Electric Powered C6 Corvette Z06 in September
Corvette Will Be the Last Vehicle to Go Autonomous
The VoltVette: Man Builds a Plug-In Electric Corvette