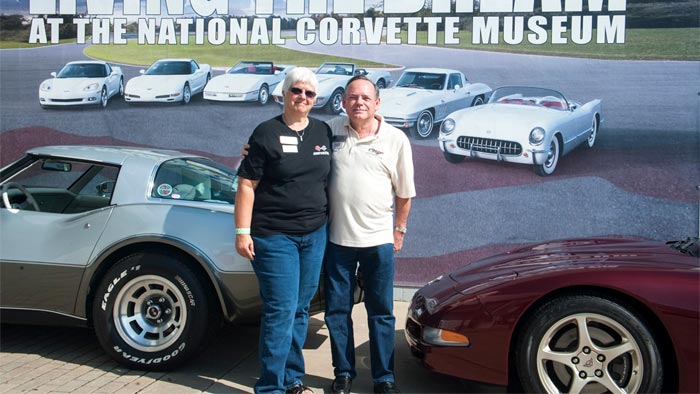 Photo Credit:
National Corvette Museum

We Corvette enthusiasts often refer to our cars as our "children." Just as with our real children, though, sometimes we have to let our Corvettes go so they can soar on their own.
That's never been truer than in the case of a Texas couple who recently donated their 1978 25th Silver Anniversary Corvette and their 2003 50th Anniversary Corvette to the National Corvette Museum.
"These are their children, and now we're responsible for them," Gary Cockriel, Museum Development Officer, said during a ceremony to accept the donation of the cars belonging to Craig and Sharon Conde.
"They've asked for visitation rights from now on, of course," he joked, "but it's just a great honor to help keep our museum and their museum going for future generations. That's what we're all about. People like this are what keeps this museum alive. They're stepping up and doing it not only with their cars, but also a donation to help keep up the cars."
The Condes have been Corvette enthusiasts for years, being Lifetime Members of the NCM as well as members of the Corvette Legends of Texas Club in the Dallas/Fort Worth area.
When it became impossible for Craig to enjoy riding in the Corvettes because of medical issues, he and his wife knew it was time to find a good home for their "babies."
Craig decided on a whim to visit the NCM after a trip to Wisconsin, to check out the Skydome, now nicely restored after the sinkhole damage of 2014.
While there, Craig saw the special Anniversary and Special Edition Corvette display, prompting his decision to donate his own special cars.
"I looked at the 25th and 50th that were on loan to the Museum, and I thought – this just isn't right," Craig said. "The Museum has been open 21 years, and somebody should have already donated these cars to the Museum. So I felt this was something that needed to be fixed."
And fix it they did!
The Condes made the donation official on Sept. 11 when they traveled in Sharon's 2005 Daytona Sunset Orange Corvette Coupe to Bowling Green to hand over the keys to their cars.
The anniversary Corvettes had been picked up earlier in McKinney, Texas, and were waiting on them at the NCM for the special "adoption" ceremony.
As staff and visitors showed their enthusiastic support, Sharon drove the '78 into the Museum, with Craig right behind in the '03.
"We want to thank Johnnie Downs, the NCM staff and volunteers that came to our home on Labor Day and assisted in the appraisals and transportation of the cars to the NCM," Craig said. "I look forward to continuing to support the Museum."
The decision to donate the cars proved to be the right one for the Condes.
"I had stopped showing them about two years ago because I was not able to take care of them," Craig recalled. "I couldn't bring myself to sell them – emotionally I couldn't."
Now he and Sharon can rest easy knowing that their "babies" are in good hands with the NCM and thousands of visitors can enjoy seeing them, too.

Source:
National Corvette Museum

Related:
Man Donates His Late Brother's 1989 Corvette to the National Corvette Museum
National Corvette Museum Receives Two Corvettes as Donation Gift
Couple Donates 2007 Ron Fellows Edition Corvette Z06 to the National Corvette Museum