Back in 1977, a young filmmaker named George Lucas changed pop culture forever with the release of the first Star Wars movie. That film not only ushered in cool special effects, it set the standard (in the immortal words of Spaceball's Mel Brooks) for movie merchandising and soon Star Wars branded toys and accessories were everywhere.
Obviously, the first Star Wars movie made an impact on the former owner and creator of this special 1974 Corvette which showcases many scenes from the movie with hand airbrushed murals painted on every body panel.
With the next installment of the movie franchise due in December 2015, it's timely that this Star Wars branded Corvette Stingray is now for sale on eBay.
We just came across the auction listing this afternoon and the countdown clock only shows about 8 hours left before it closes. The Corvette already has received 63 bids but the current bid of $6,000 is not yet meeting the sellers reserve. The auction closes today at 9:31 pm.
The Corvette's body panels were hand airbrushed by the Uniontown, PA resident Rusty Fecek who spent over 1,000 hours on the car. The Corvette features 20 coats of hand-rubbed lacquer and the richly-covered murals have held up well over the last 35 years.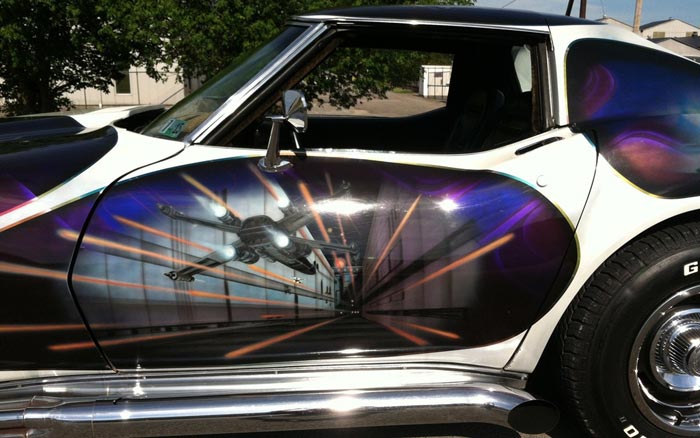 Rusty showed the car back in the day (see the newspaper article attached) and it earn awards and praise where he went with it. After he passed away, the car went to his daughter's garage where it was stored for 12-15 years before changing hands again.
Today the seller says he restored the bumper covers and some interior pieces and that it draws a crowd where ever its displayed. While the Star Wars murals will draw you in like a tractor beam from a space station, mechanically the car is sound with a 350 V8 coupled to a 4-speed manual transmission and it has just 29,000 miles on the odometer.
If you're interested, check out the pics, go kiss your sister and then offer a bid on this classic Corvette because this deal will be gone faster than it took the Millennium Falcon to make the Kessel run in less than 12 parsecs.

Source:
eBay

Related:
Corvettes on eBay: Barn Find 1960 Corvette Would Make a Great Project Car
Corvettes on eBay: 1964 Grand Sport Replica
Corvettes on eBay: Wild 1971 Corvette with Psychedelic Paint Job