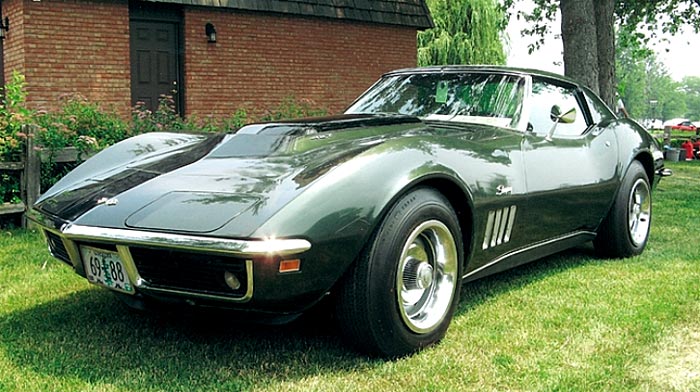 Few words make a Corvette collectors ears perk up more than the words "L88" and "auction" used in the same sentence. But when "L88" is accompanied by the words "original", "unrestored" and "survivor", collectors' eyes get real big and their hearts start to palpitate. Well, if you're a Corvette collector, you'd better sit down before reading any further.
Mecum Auction
Mecum's Seattle Auction will offer an original, unrestored, survivor Corvette L88 coupe at the CenturyLink Field Event Center on June 6, 2015 as Lot #S161. This Corvette, one of 116 produced for 1969, was originally bought from Selman Chevrolet in Orange, California. In addition to the L88 engine and required L88 options, the Fathom Green Corvette came with a Saddle leather interior, tinted glass, front fender louver trim, a tilt-telescopic steering wheel and an alarm system. The owner added a black racing stripe.
Corvette L88
The L88 had special aluminum heads, strengthened crankshaft, 12.5:1 compression ratio, solid lifters and an 850 CFM Holley carburetor. Mandatory options with all L88 engines included:
Heavy duty M22 4-speed manual transmission
3.70 Positraction rear end
F41 heavy duty suspension
J50 power brakes
J56 special heavy duty brakes
Special cooling system
Raised fresh air induction hood
Fuel octane warning label

Mecum's 1969 Corvette L88 Coupe History
Our featured car spent its first three years rumbling around the streets of Los Angeles. Its third owner moved it to Oregon and in 1976 placed the car in storage, where it remained until bought by collector George Pappas in 2006. According to the Mecum website, the ownership history is documented by vehicle registrations. Other documentation with the car include the warranty folder, Protect-O-Plate, a copy of the window sticker, and an NCRS shipping data report.
In 2007, the unrestored L88 earned a Chevy Vettefest Bronze Spinner and garnered Bloomington Gold Survivor status in all four categories – paint, interior, chassis and driveline. The car was part of the L88 Invasion at Bloomington Gold in 2008.
Although the L88 engine was 'officially' advertised by Chevrolet as having 430 horsepower, every Corvette fan knows that an L88 in street trim produces around 550 hp. A racing L88 with open exhaust and using racing gas can produce over 600 horsepower. The L88 was engineered specifically for racing and Chevrolet's low advertised horsepower figure was intended to discourage potential buyers who would only use the engine on the street.
If you've always wanted the L88 that you missed out on in 1969, this may be your only chance. Many of the 116 built were thrashed hard in races and not too many unrestored examples remain.

The auction will be broadcast by NBCSN. For the broadcast details and for any questions you may have, please visit the Mecum website at www.mecum.com. Happy bidding!

Source:
Mecum

Related:
ProTeam Corvette: 1968 L88 Corvette Has Documented Drag Racing History
[VIDEO] The L88 Corvette Racers Arrive at Amelia Island
1967 GT Class-Winning Corvette Returns to 2015 Sebring in Gallery of Legends Display