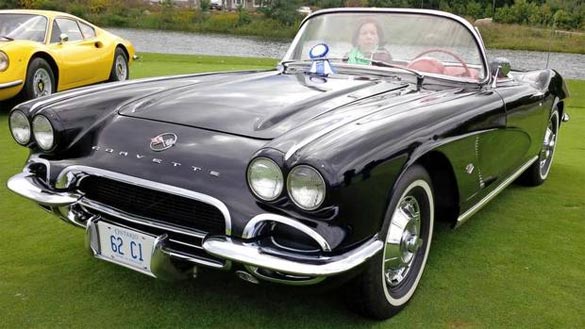 Photo Credit:
Dan Proudfoot
Doug Kinsman was just following orders when one of the judges at a prestigious car show asked him to see if the windshield washers worked on his 1962 Corvette.
Kinsman's car was being judged last month at Cobble Beach when judge John Ballard requested the operation of the washers.
Kinsman had never tried them so he said he didn't know if they would work or not.
He soon found out that they did squirt washer fluid, lots of it, in fact – just not in the right place.
"All of a sudden, an initial shot of water went up over the windshield and past the back of the car," head class judge Paul Oslansky said.
"Next, the passenger side nozzle shot straight ahead – over the hood – and sprayed me where I was in front of the car. He just kept pressing that button!"
Not to fret, though. The soaking of the judge didn't cost Kinsman any point deductions. "What's required is that the system work," Oslansky noted. "It certainly worked. The biggest thing that surprised us was that vacuum-powered washers generally don't have strong squirts. This one was powerful."
After the judge took a break to dry off, he eventually made his rounds and returned to Kinsman's 1962 Corvette and put a first-place ribbon on it.
Kinsman's love for Corvettes goes way back to the days when he had a 1958 model with dual four-barrels on it, a car that he and his brother loved to race.
"Nobody passed that car," Kinsman said. "It had two four-barrel carburetors – the second one engaged when you were accelerating hard.
Mostly, I drove with the link between them disconnected to save gas.
"Once, my brother Stewart and I were driving up the 400 when another car loomed up on us. At about 60 mph, I released the hood, which opened from the rear, and Stewart was able to stand up and, leaning over the windshield, connected the linkage so both four-barrels were functional.
And that was the last we saw of that other car."
Kinsman eventually moved up to a '62 model that he "treated… like an SUV – I showed it no respect," he said.
Marriage and kids led to a decision to sell that car, but when he won the lottery in 2008, he decided to begin a search for his beloved 1962 Corvette.
"I tried everything, I wrote articles in Corvette magazines, I advertised, I even hired a fellow who calls himself a car sleuth. The owner must be a recluse who doesn't read. No response."
That led Kinsman to settle for another '62 just like his original, black over red, but after winning the first-place prize at Cobble Beach, he's not complaining about the replacement.
"The way it feels now is just the way it felt in 1962," Kinsman said. "So much torque you can step on it at any speed – I can chirp the tires in second as well as first – and brakes that require good vision."
Admittedly, for sentimental reasons, he'd still like to find that first '62, VIN 20867S108566 if you happen to recognize those numbers.
"I'd love to see it again, talk to the guy about his experiences with it. Would I buy it? Likely not. Know what? This '62 is starting to be my car."

Source:
theglobeandmail.com

Related:
Detroit Man Tracks Down and Buys His Late Father's 1973 Corvette
Larry Traded a New 2004 Corvette for a '66 427/390 Big Block Convertible
1960 Corvette Rescued from Chicken Coop