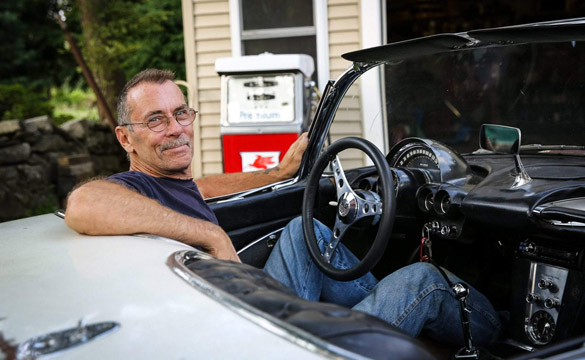 If you found a tattered classic car in a barn, would you leave it like it is or restore it to like-new condition?
Both options obviously have their pluses and minuses.
Today, we hear from someone who is happy he chose the first option.
But Jeff Taylor of Hudson, Massachusetts, a 58-year-old heating and air business owner, didn't find his 1960 Corvette in a barn – he found it in a chicken coop!
The classic roadster had obviously lived a hard life before Taylor finally rescued it in 2012 from a corner of the coop, where it had been attacked by rats and generally forgotten all about resting underneath a sheet.
Taylor found out from the previous owner that the Corvette had spent most of its early years on a California Air Force base, where numerous airmen had passed it around. Turns out that the coop actually was a respite for the Corvette – it had sat outside for 15 years in the weather before sitting another 19 years in the coop.
"There comes a time in every motorhead's life when you ask yourself, 'Can I save it or not?'" Taylor said. "Well, the answer with this car was simple: it was 80 percent there and most of the missing trim ended up being in the trunk and no matter what, it was a C1 Corvette. So yes, it was to be saved."
Taylor decided early on, though, that this wasn't going to be a trailer queen restoration.
He pulled the car's replacement engine (a 327/360 from 1965) and replaced it with a 1962 327 he had just built. Then came a total brake system rebuild, complete wiring (courtesy of the mice), and some front end work, along with a good pressure wash inside and out to get rid of the smell.
But no fancy paint job or new interior.
"The car is in no way perfect," Taylor admits, "and it's not meant to be. I have had C1 'Vette owners that have showroom condition cars come up and tell me to leave it just like it is because once you're done bringing it back to its former glory, you may love the car but you'll never have as much fun driving it as I do now. They worry so much about their cars that it takes the fun out of owning them."
Taylor says it's almost like the car wanted him to find it. After all, he only went to the chicken coop to show a friend a 1967 Chevy that was one of several cars stored there.
As the friend looked over that car, Taylor walked around to look at the others and discovered the Corvette stuck down in the back corner half covered up with a thin sheet.
Friends told Taylor he wouldn't be able to touch the Corvette for less than $10,000 to $15,000, but it turned out the owner was just happy to quit having to pay the monthly storage bill ($15 a month) and offered to sell the car for $3,000 if he would pay his back rent out of that and send him the balance.
"Think about it – a 1960 Corvette in storage 34 years for $3,000," Taylor says. "I think the car gods were looking out for both of us and wanted us together."
Sometimes a car's story includes leaving it the way its journey through life has made it. Just ask Jeff Taylor.

Source:
Milford Daily News

Related:
1962 Corvette Driven Daily for Over 50 Years
Thirty Years Later: Jim Glass Still Restoring and Racing Corvettes and Camaros
One-Owner 1963 Corvette Still Going Strong