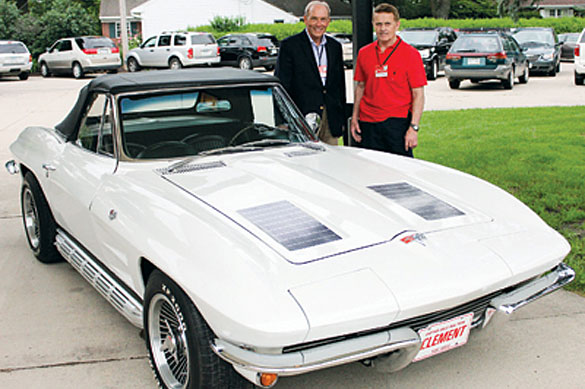 Photo Credit: Dave Hon – Newton Daily News
Sometimes a car is more than a car. Take Larry Clement's 1963 Corvette convertible, for example.
A member of the Class of '63 at Newton High School in Newton, Iowa, Larry brought the Corvette to their 50th reunion in June, and it immediately became a symbol of the successes enjoyed by the class in 1963 and ever since, including his two close friends, Tom Ross and Jim Getz.
"It wasn't about the individual," Ross said, looking back at their high school days. "That was the best thing about what we did. Nobody was looking for ink for themselves."
The whole community turned out to support the accomplishments of the Class of 1963, and there were plenty of them. The basketball team won the championship that year, the debate team brought home several awards, and many students were cited for their musical talents.
The three men gave credit for their school's success to the support they received from their teachers, coaches, and the community in general.
"This community allows you, if you have a group of people that are outstanding or exceptional or even to a point to where they are trying to be exceptional in any given way… whatever you choose, this community has a tendency to grab their arms around it and be a part of it," Ross said.
Clement had been looking for his special 1963 Corvette for years and got the word about it while he was enjoying a trip to Disney World with his grandchildren.
"My wife wasn't sure that I needed another Corvette," he said. "I said, 'I gotta have a '63.'"
As we said, sometimes a car is more than a car. For these three friends, this Corvette is a symbol of the close relationship they've enjoyed for the past 50-plus years.
As Newton Daily News writer Dave Hon wrote in a story about the men: "The car didn't symbolize simpler times or a better era, but a past that shaped the three men into who they were, and reminded them of what Newton — as a community and town — expected from them and gave back to them."

Source:
Newton Daily News
Photo Credit: Dave Hon – Newton Daily News
Related:
GM Makes Wish Come True For Man with Terminal Cancer
California Man Reunited with the 1962 Corvette He Sold in 1966
The Story Behind Rick Hendrick's 1967 Corvette Convertible