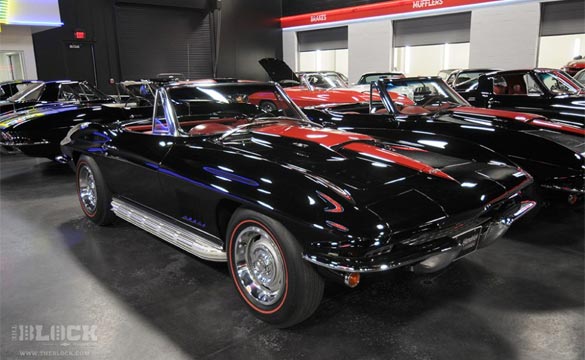 When Bob Martin got the news he had prostate cancer in 2000, he decided it was time to fulfill a lifelong dream and finally buy a Corvette.
And boy, what a Corvette he found!
Thanks to the kind folks at ProTeamCorvette.com and owner Terry Michaelis, Bob soon became the owner of a 1967 big block roadster once owned by music legend Roy Orbison.
Terry had bought the car from Barbara Orbison a few years after her husband's death and says it is one of just two known black and red 1967 roadsters with the 427/435 motor. "But, this one in particular is the only known with its original motor," Terry said.
That's when Bob and his wife, Carol, came into the picture, traveling 14 hours from Great Bend, Kansas to ProTeam Corvette's facility in Ohio and then driving their new car over to Niagara Falls for a memorable three-day vacation.
"It was one of the most wonderful times of our lives," Bob told TheBlock.com, "getting to enjoy Niagara Falls and buying this car together."
Unfortunately, two years later, the car was stolen briefly from the Martin garage. "They drove it 10 miles north on a dirt road and ran it off into a muddy wheat field," Bob recalled. "When we found it, there was mud all the way up the sides of the doors; it was a complete mess. The car ended up having about $14,000 worth of damage to it, but we sent it back to Terry Michaelis to work on."
The Corvette proved to be popular with all of the family.
"Bob just really loved that Corvette," Carol said. "He'd drive down Main Street and be so proud of it. Bob scared me with the car though; he liked to drive it more like it was an airplane than a car! Once in a while he'd pass some cops and they would just shake their finger and grin. And all our grandkids used to love to be able to tell their friends that their granddad had a Corvette."
When it was time to sell the car, the Martins called Terry Michaelis, and he soon found another owner who would love the car just as much as Bob and Carol: Rick Hendrick!
"Really just knowing that Rick had such an interest in Corvettes and that he would take care of it like he did was what eased us," said Bob, who still admitted to shedding a few tears as the car left his home. "It's a phenomenal piece of machinery, and we just needed somebody to take care of it."
That was the beginning of a strong bond between Rick Hendrick and the Martins.
"He's a wonderful man," Bob said. "…I haven't regretted selling the car as I know it went to a wonderful owner. When I was in the hospital a few months ago, my wife e-mailed Rick. I was having some issues, lost the use of my legs and couldn't walk. Once Rick found out about that, he sent a care basket. It must've weighed 50 pounds!"
Unfortunately, here's where the story turns sad. Bob finally lost his battle with cancer on April 9, but not before he had had a chance to add his own chapter to this Corvette's life story. Bob Martin may not have been a celebrity like Roy Orbison or Rick Hendrick, but his love for this special Corvette was just as powerful.
You can read his obituary at http://www.gbtribune.com/section/3/article/51150/.

Source:
TheBlock.com

Related:
[PICS] 2014 Corvette Stingray Convertible Sells at Barrett-Jackson Palm Beach for $1 Million
Rick Hendrick Contributes $100,000 to the Corvette Museum's Motorsports Park
[VIDEO] The 2014 Corvette Stingray Featured on CBS Sunday Morning