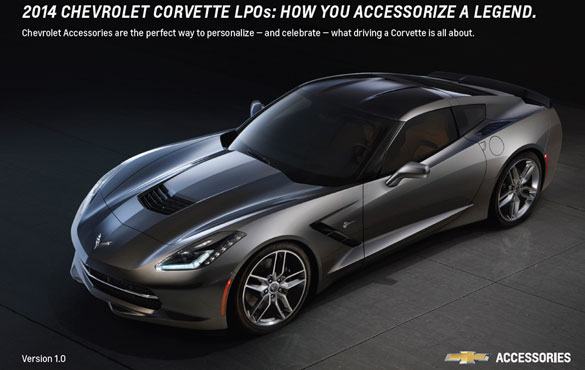 Corvette Product Manager Harlan Charles likes to talk about all the ways you can customize the 2014 Corvette Stingray to make it your own, but details about how you can accessorize the seventh-generation sports car have been vague at best. Until now.
We recently got our hands on a dealership LPO card which details some of the accessories that are coming from Chevrolet for the 2014 Corvette Stingray.
When placing an order for the Corvette Stingray, buyers select options and accessories from a list of Regular Production Options or RPOs. But there is also a list of LPOs which stands for Limited Production Options. These are preordered options that include a single accessory or a collection of accessories that are part of a special package. LPOs are usually dealer installed prior to customer delivery unless otherwise noted.
The Corvette LPO list we receive details both accessories that are currently available as well as those coming later this year.
Examples of the available LPOs include Stingray logo floor mats, door still plates, center caps and indoor and outdoor car covers. Included on the list are the 5-spoke chrome Torque wheels, which we just saw on the 2014 Corvette Stingray Premiere Edition, and the 5-piece luggage kit. One item that we haven't seen yet is the Cyber Gray Grille which we assume will replace the front mounted black carbon flash grille.
The list of those LPO's that should be available by the time Corvettes start arriving to dealerships during the 3rd Quarter is even more interesting.
On the inside, buyers can opt for an Interior Stingray Logo package, which includes the Stingray badge on the floor console lid, still plates and floor mats. Buyers can also get the PUR-wrapped floor console lid with the Stingray logo in their choice of interior colors – Black, Med Ash, Kalahari and Adrenaline Red. It's also available for the 3LT Brownstone suede wrapped option as well.
For the exterior, the 5-spoke Torque Wheels will also be available in silver with crossed flag logo center caps.
There will be an Exterior Trim Kit which swaps out all the black Carbon Flash vents – quarter vent, hood vent, fender vent and taillamp scoops – for those painted Cyber Gray. We assume that you'll want to add the Cyber Gray front grille as well with this choice.
A number of spoiler options will be available as well. For the non-Z51 cars, you can get a body color painted wing instead of the standard black, or you can get the Z51 full-length spoiler in either carbon flash or full body color too.
A Stingray Appearance package for the Coupe comes with a crossed-flags underhood liner, indoor car cover and chrome center caps.
There are also a number of items listed that we're not quite sure of, so if you're ordering a new 2014 Corvette Stingray, talk with your sales specialist about these new options.
You can see the full list of options on the LPO card:

Related:
Chevrolet Reveals the 2014 Corvette Stingray Premiere Edition
2014 Corvette Stingray Performance Estimates Revealed
[PICS] Chevrolet Shows Off New Stinger Hood Treatment on the 2014 Corvette Stingray