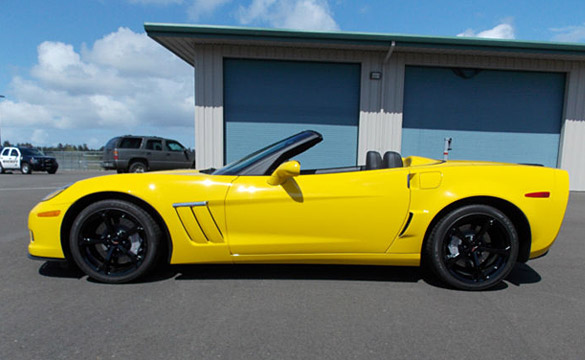 Later this week, a 2013 Corvette Grand Sport Convertible with a rather unique history, despite its short-lived existence, could be in the hands of a new owner.
We first told you about this yellow Corvette late last year after it was seized by authorities with just a little more than 100 miles on the odometer!
The owner was arrested after a search warrant in Grayland, Washington yielded 8 pounds of marijuana and tens of thousands of dollars in cash at the residence of 57-year-old Wayne Dean Bisterfelt.
Now the car – which features the 3LT equipment package and black wheels – is being auctioned off on eBay, with the bid reaching $55,100 as of Monday Morning. The auction runs through May 12. The ad says that the car has just 108 miles after being driven from the car lot to the owner's home.
Pacific County Sheriff Scott Johnson said the owner of the Corvette had traded in another late model Corvette and paid for the 2013 model in cash.
"We're talking about a transaction of about $74,000 not including sales tax," Johnson said. "Deputies believe that a third vehicle that belongs at the residence, a newer special edition SUV, was purchased with cash as well. It was not at the residence at the time the warrant was served."
Ironically, the man who was arrested had no teeth but told authorities that he couldn't afford dentures.
Deputies working in conjunction with the Pacific County Drug Task Force had originally entered the residence with a search warrant for a violation of a court order. Once inside the house, however, they found a large amount of marijuana and an impressive growing operation set up. No growing plants were found as the suspects were apparently between growing seasons, the sheriff said.

Source:
eBay

Related:
2013 Corvette with 108 Miles Seized in Washington Drug Bust
[ACCIDENT] New Hampshire Man Faces DUI Charges in C6 Corvette Crash
Police Seeking Clues After Thieves Strip Parts from a 1971 Corvette