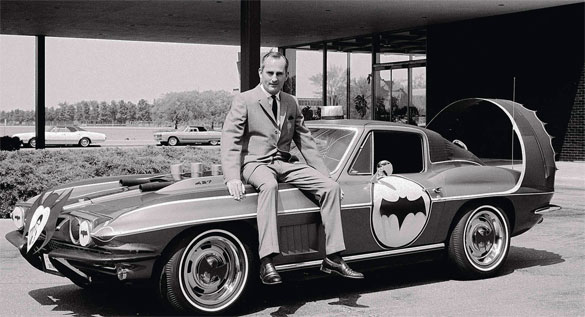 Randy Leffingwell's outstanding book – Corvette Sixty Years – offers this rare photo of a 1967 427 "Corvette Batmobile" that apparently was the result of a request from officials with the 1960s TV show, Batman.
"I've met Chuck Jordan several times over my career writing Corvette histories. This photo seems so implausible: dapper, disciplined Chuck sitting on a cartoon. Series creator Bob Kane and executive producer William Dozier asked GM Design's help in creating a suitable escape car for their lead character, Batman. The TV show ran from 1966 through 1968 and starred Adam West."
That's what Leffingwell writes in his book of this photo, which makes one wonder how seriously GM took the request of the series executives.
While a C2 Corvette is one of the most beautiful cars ever made, the 1967 Batmobile is hopefully a tongue-firmly-planted-in-cheek idea of what Chevy thought the Batmobile should look like – completely with stick-on Batman logos on the front end and headlights and huge rear spoiler.
For those who have been critical of the C7's new rear treatment, they should take a good look at this 1960s creation!
Obviously, most folks will be glad that the TV show stuck with George Barris' excellent Batmobile which recently sold at Barrett-Jackson for $4.2 million!
At least we can rest easy knowing that this Corvette Batmobile was easily able to be converted back to a normal – and beautiful – C2 Corvette!

Source:
silodrome.com

Related:
1963 Custom Corvette Built by George Barris to be Shown at Carlisle
[VIDEO] Batmobiles Go Drag Racing
Corvettes on eBay: 1978 Batmobile Replica