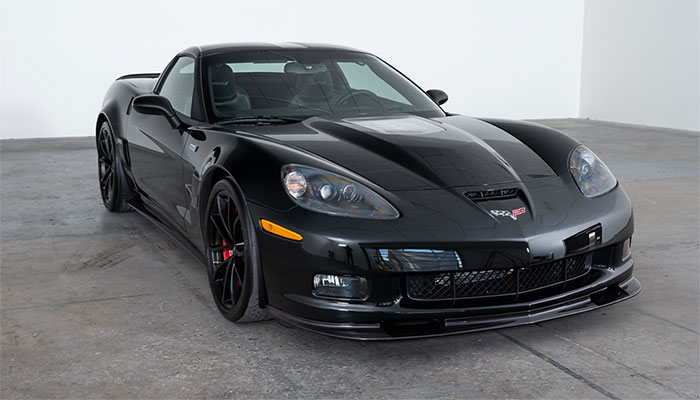 As OEMs struggled to produce new inventory, used car prices were up more than 40% across the board last year. As most of you may have noticed, Corvettes were no exception to that rule, and in some cases, a 40% price hike from 2020 prices would be considered a steal early in 2022. As manufacturers start to put the chip shortage behind them, many experts are looking at the near horizon and forecasting a return to Earth for used car prices. As the window presumably starts to close on the massively inflated prices that we've been dealing with for more than a year, there has been an influx in "delivery-milage" trailer queens listed for sale online as their owners look to cash in! If you are looking for some like-new examples and don't mind paying the highest prices we've ever seen, get a load of the following listings!
2019 Corvette ZR1 – 6 Miles – $279,900
The market for the front engine Corvette's curtain call has been hot, almost since day one, but it went nuclear in 2021. While all 2,953 C7 ZR1s have enjoyed a heaping pile of appreciation, but no modern 'Vette has ever been as coveted as a 2019 ZR1 with the trifecta of Sebring Orange design package, the "big wing" ZTK package, and a manual transmission. In July (first gear), we covered one such specimen that sold for $238,000; just shy of $100k over its two-year-old sticker price. When October rolled around, we found a 13-mile ZR1 with the holy trinity of RPOs that still had the little shower cap on its shifter listed for a whopping $289,900. While that one is still on the market, it has been joined by another that somehow has even fewer miles! In fact, the odometer on ZR1 number 2,182 has only rolled over six times, making it one of the most original '19s in the world! For the privilege of towing this beauty to car shows for the rest of your life, Porsche Gold Coast is asking $279,900, undercutting its rival posting by ten G's!

2016 Corvette Z06 C7.R – 516 Miles – $99,900
Meanwhile… in Palm Beach, one of America's 500-unit lion's share of the 650 total 2016 C7.R Edition Z06s has surfaced at Marino Performance Motors. It is number 248 and it has only just passed its 500-mile break-in mark. Specifics on these are kind of murky, but what we know about 248 is as follows: it is one of 570 coupes, is presented with the much rarer Black exterior, and it has the 8-speed automatic transmission, just like Jeff Gordon's! Beyond the commemorative badging, these things will always be desireable for their standard list of upscale features. If you see a C7.R Edition, know that you are looking at a fully loaded 3LZ Z06 with the Z07 track package, quite simply, the ultimate Corvette that Bowling Green minted in 2016, and it can be yours for just under $100K, an under MSRP screaming deal compared to the ZR1 above!
Sub-Thousand-Mile C6s
The most recent of the "old" Corvette generations isn't the only one that owners are cashing in on, either! Check out these C6s that are still in the wrapper!
2009 Corvette ZR1 – 54 Miles – $129,900
Illinois' Chevy Exchange has what might be the prettiest car on this list sitting on their floorplan currently. Checking in with just 54 miles is a flawless Jetstream Blue ZR1 from the inaugural year of Super 'Vette production. That makes it one of just 231 Blue Devils that were actually painted blue in 2009 (232 if you count the single LeMans Blue car). It is currently on offer for $129,900, but unless you own a museum, we'd recommend taking that kind of cash to McLaren Philly, where this "sexy" beast is still looking for a home!

2013 Corvette 427 Convertible – 525 Miles – $72,975
While you are in Palm Beach looking at the C7.R above, might we suggest a limited-edition version of America's Sports Car that we think is actually due for some strong appreciation, the C6's one-year special; the 427. Right now, we can't think of a better one of these underappreciated gems than this Cyber Gray stunner at GotSpeed.com. The only vehicle that ever offered the magical LS7 V8 in a drop-top body received just 2,552 orders before leaving production to make way for the reborn Stingray in 2014, and this concours-ready example in one of the best exterior colors in recent memory could be yours for well under the original sticker price. Get it before the market wises up!

2013 Corvette ZR1 – 60 Miles – $139,990
We wanted to include a C6Z in here, but the market is surprisingly lacking in our favorite car of 2006-2013, so we dipped back into the rich waters of the ZR1 well. West Coast Exotic Cars is currently flush with desirable low-mile Corvettes, but the one that really caught our eye is a final-year ZR1 that has three times the miles of another one in the same showroom, but it is much more special, and at 60 miles, it is far from a junker! The 2013 ZR1 wearing VIN 397 is a triple Black (interior, exterior, wheels) car with red calipers that completely jump off of the page when you view pictures. The big selling point to this one obviously isn't its eye-watering price, but the fact that it earns its steep ask. Like the Torch Red example linked at the end of our first C6 ZR1 listing, the order sheet for this black beauty features a check next to the "PDE" box (one of just 375 ever built), elevating it above any "run of the mill" ZR1. PDE is to ZR1 as Z07 is to Z06; upgraded go-fast hardware and rarity make it the modern equivalent of the big-tank factory racers that Zora covertly pushed out the door in the '50s and '60s. You might not think that some extra gizmos warrant the asking price over any another 638-horse monster right now, but, when you tune in to Barrett Jackson Scottsdale in 2045, you might wish you snagged a PDE "on the cheap" back in '22.

Bonus Non-Corvette
If you look at these prices and get a little depressed, like your author, take solace in the knowledge that it could be worse. Exhibit A: a 2017 Dodge Viper ACR-E in the Red with Black center and driver stripe Lightning Lap colorway. This former Laguna Seca record holder has only covered 18 miles since it was assembled at Detroit's Conner Avenue Assembly Plant during the last year of the Viper's lifespan and you'll have to want it dearly to pull the trigger. At $329,000, it is more expensive than a new 911 GT3 (on par once you factor in dealer markups!), and even bumping into Ferrari 812 Superfast territory! But the market says it might actually be worth it.

One sold for $407,000 on BaT last year (sure it was a special edition wearing serial number 001, but still, insane!), and it was just one of several that eclipsed $300k in '21. And, you know what? We happen to agree with what the market is telling us about the Gen-V Viper! Like the rapidly appreciating C7 ZR1 above, the world will never see another car like the 8.4L Viper with its Extreme aero package and complete lack of an automatic transmission option! Brutes like these are the ultimate example of the shock and awe American way of building fast cars that have sadly been deemed too uncouth for modern life by the powers that be. The automotive landscape is all the duller without them, they will be dearly missed, but not forgotten, the people driving up prices know exactly what they are getting!

Related:
Our Three Favorite Corvettes for Sale from Corvette Mike in January
Corvettes for Sale: Tree-Damaged 1978 Corvette Indy Pace Car Offered for $11,950
Chevy to Offer 1st Retail 2023 Corvette Z06 for Charity at Barrett-Jackson Scottsdale